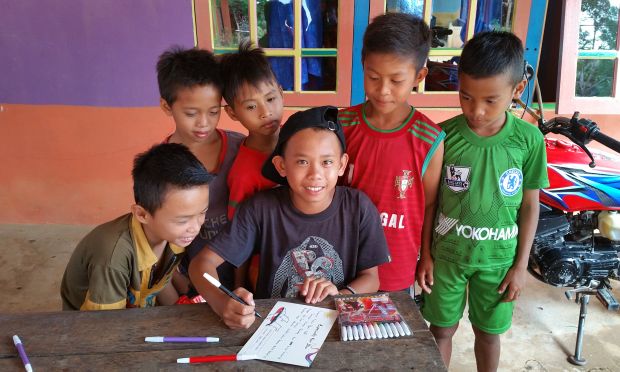 In the major cities such as Jakarta and Surabaya, it is much easier to find children who have big dreams. On the other hand, children who live in a village or other secluded area do not answer the question about their dreams with sparkling eyes and loud voice. A dream is such a trigger for children in order to have a willingness to finish their study, so that learning at school is not boring anymore. WV Indonesia (WVI) Operational Office in Sekadau District, West Kalimantan, has tried to encourage the children for having hope as well as dreams through the "Tree of Dream" project.
"Why do you want to continue your study?" I asked one of the children, Libertus, who is 13 years old but still in fifth grade because he repeated a grade twice. He answered, "I still want to go to school so that later when I grow up I can find a job." I asked Libertus once more, "Are you not ashamed?" He has a friend, at age 12, who is already in seventh grade. Both of them agreed that it is no shame to have experience and to have a friend with repeating a grade. They also said that their friendship will last forever.
Libertus is not the only one. Three of six children who participated in the Tree of Dream project had the same experience.
"Do not give up, study diligently" That is what Libertus' hope for children who have dropped out of school. Levi (11) also stated, "We should not mock them, but cheer them up so that they will continue their study and still be friends."
There are many elementary students, mostly first – third grade students, who must repeat a grade. One of the reasons is the lack of stimulation that is given to children at early school-age.
To overcome this problem, WVI in Sekadau District hold a program called Holistic Integrated Early Childhood Care and Development (HI ECCD).
This program is an integration of early childhood education, health post and family building for under five children's family. Early stimulation from family and education in early stages could develop physical, social, emotional and intellectual capability of children; moreover their quality of life will also be better. With the improvement of children's health and education, it is expected that they will have great and high fighting spirit to achieve their dreams and goals.
~Written by Bellatrix Jacobs, Child Participation Coordinator, WV Indonesia, Sekadau Operational Office