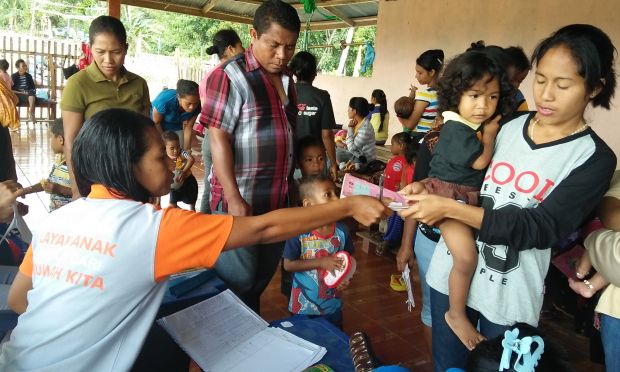 Her face is always bright and warm with smile that shines from her face, it is in contradiction to the nuance of her village that is always covered with thick and cold fog. She is Maria Benedikta Noa, people usually call her Mama Ica for short.
Mama Ica loves children in her community, hence she joins Integrated Health Post (Posyandu) in her village as a community health volunteer of Bidoa Posyandu. She considers it as a calling, that is triggered woken up by the death of two children in her village several years ago. She said with a tear in her eyes, "I do not want to see other children die because of being ignored by parents and unmonitored condition by health worker and community health volunteer. I want that all children here have a happy and healthy life."
With her big hope for better future of children in her village, she accepted and embraced her calling.
"Honestly, I was confused about what I should do at the first time at the beginning as a community health volunteer.
I only know that we have to monitor child's growth and development and give advice to parent about parenting skills. But, I did not know exactly how to serve them properly," she said with a little shy smile while she was recalling her memory.
"I bring my spirit to Posyandu and follow what my seniors are doing. As time goes by, I realize that our service is not maximal on its implementation. For instance, if there are children who do not gain weight within two months in a row, they shall be referred to the Community Health Center (Puskesmas) in order to prevent malnourished. In the past we did not know that we should have visited Puskesmas," explained a woman who is also a treasurer in her neighborhood association.
Besides the lack of knowledge of Posyandu service, Mama Ica thinks that the other challenge is her age. She is the youngest among the health cadres. There are always pros and cons between the old and the young people. Not only among her co-workers, but also with parents who come to the Posyandu. Parents who are older usually do not want to hear information about their child growth status from Mama Icha her. Mostly, parents bring their child to Posyandu just to follow the village regulation.
In Bidoa village, WVI strengthens community health volunteers through capacity building of Posyandu cadres to develop and increase the quality of its service.
"Often I am ignored because of my age, but as community servant I must be patient. Not all people can accept us. That is normal," Mama Ica said sadly.
"I am thankful because WV Indonesia (WVI) comes to our village and has a project which focuses on Posyandu. It is not a coincidence, actually. It is what we called an answer to a prayer," she added.
Mama Ica and other community health volunteers have chances to meet new people through some program such as Posyandu assistance as well as Posyandu learning and training that facilitated by WVI in village, sub-district, district, and province-level.
She also shared all of her experiences that she got from WVI activities with her friends (community health volunteers and parents) and implemented together in her Posyandu. She and other community health volunteers slowly but sure changed the process of Posyandu services properly. Each month, based on regular meeting and evaluation assisted by WVI, they always trying to improving the service of Posyandu.
"There is a mom in our village who has a child who is malnourished. It means, her daughter needs to be referred to Puskesmas. She was very stubborn. She did want to hear and thought that her daughter was okay and had no problem. She has tons of reason to not bring her daughter to Puskesmas."
However, Mama Icha kept encouraging the woman. Until one day, the woman finally brought her daughter to Puskesmas and had a consultation with a pediatrician and nutritionist.
"I am thankful to Mama Ica and all community health volunteer who has been always encouraged me to go to Puskesmas to check Karolina's condition. Now Karolina looks more healthy and happy. I am so glad," said Maxima Wea (34), mom of Karolina (3) who has been monitored in Posyandu by Mama Ica and friends.
WVI has been supported Mama Ica and all community health volunteer and given them valuable experiences. Personally, WVI has also Mama Ica in public speaking and counseling people. She wants to make a change in her village. It is not easy to change people in order to have a better life, but if we do it with a sincere heart it is possible to create a good impact.
Written by Helmina Baru, Field Facilitator of WV Indonesia, Nagekeo Operational Office