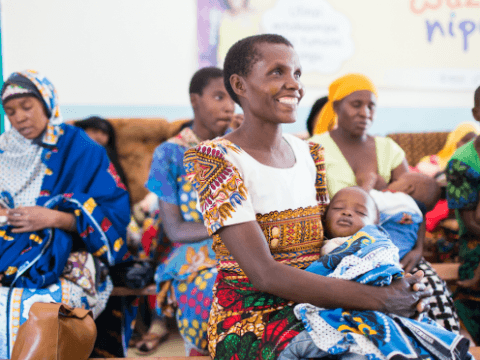 Health and Nutrition
Goal: Improved Health Status for Children and Families
We are committed to improving the health and nutrition of children, women and communities in the areas that we work in.  Our aspiration is to reduce the child and maternal mortality rates in Kenya. Good health is the foundation of a child's life. Therefore, we aim at ensuring that mothers and children are well nourished and protected from infection or disease. We also ensure that they have good access to essential health services.
Achievements: Financial Year 2018 (Oct 2017-September 2018)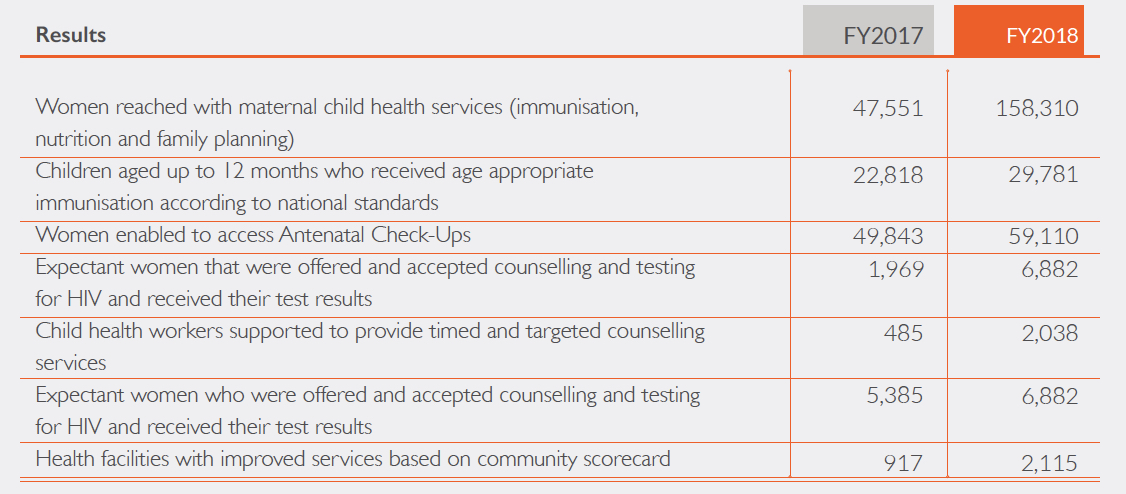 Approaches
We use the following approaches to implement Health and Nutrition projects: Channels of Hope, Community-based Management of Acute Malnutrition, Problem Management Plus and Maternal Infant and Young Child Nutrition
Areas of Focus
1. Child Health
Our key priority is reducing child mortality by improving the health status of children and their families in marginalised and fragile contexts. This is because we recognise that investing in children's health is the foundation for a healthy generation, which will bring immense returns to the society.  To achieve this goal, we work with Kenya's Ministry of Health and like-minded partners to address health challenges affecting children below five years (0-59 months). We give special attention to the first 1000 days of a child (from conception to two years of age) as this period is critical to their survival. The following legal frameworks guide our work:
Kenya Constitution (2010)

Kenyan Health Policy (2014-2030)

Kenya, Reproductive, Maternal, Newborn, Child and Adolescent Health (RMNCAH) investment framework (2016)

Newborn, Child and Adolescent Health (NCAH) Policy (2018)
Following the World Health Organisation (WHO) and UNICEF Integrated Management of Childhood Illness approach, World Vision Kenya focuses on:
Strengthening of health systems and improving community access to quality services, especially in counties with a high mortality burden, vulnerable communities and various forms of emergencies

Achieving full vaccination for children below one year old (12-23 months)

Preventing common childhood illnesses such as pneumonia, diarrhoea and malaria which are the main killers of children under the age of five

Promoting early detection, referral and treatment for children below five years

Improving community based health structures and behaviour change processes through Kenya's Community Health Strategy

Enhancing availability of essential health commodities, supplies and equipment

Enhancing households access and utilisation of safe water, improved sanitation and hygiene practices
2. Nutrition
World Vision works with the Government of Kenya and other partners to address nutrition gaps in vulnerable communities. We seek to ensure that all children enjoy a good nutrition status, which is key to their development and wholesome growth. Our interventions are aligned to the Kenya Health Policy, as well as the National Food and Nutrition Security Policy. Our work focuses on:
Maternal infant and young child Nutrition

Food Security

Nutrition in Agriculture and Livestock

Nutrition in Education and Child Protection

Micro nutrient Deficiency Control

Nutrition in Emergencies

Nutrition Capacity Development and Learning
3. Mental Health
To tackle common mental health conditions affecting Kenyans, we are implementing a new World Health Organisation (WHO) low-cost model known as Problem Management Plus (PM+). Unlike conventional approaches that rely on professionals, this new model is being implemented by Community Health Volunteers (CHVs) who help affected people to self manage common mental health problems such as depression, anxiety, stress or grief. They do this by training them on basic strategies of dealing with stress, solving life problems and adopting behaviours that guard against mental health challenges. Kenya faces a high mental health burden yet there is an acute shortage of professional mental health specialists - such as psychologists and psychiatrists - in the country. The trained CHVs are bridging this gap, hence enhancing access to mental health services to Kenyans in different areas, including communities in remote and rural regions. These efforts are contributing to the universal access of mental health services as per the Kenya Mental Health Policy (2015-2030).
4. Maternal Health
In Kenya, many women die each year during pregnancy and childbirth. World Vision partners with the government and other stakeholders to avert this challenge through initiatives that are in line with the National Maternal and Neonatal Health Road Map, which focuses on:
Antenatal Care during pregnancy

Enhancing skilled care during childbirth

Post natal care and support in the weeks following childbirth

Health Timing and Spacing of Pregnancies

Supporting the roll out of the Community Health Strategy
5. Adolescent Reproductive Health
Adolescents constitute a large proportion of Kenya's population. This has implications on the country's health and development agenda. World Vision believes sexual and reproductive health care for adolescents is essential for young people to realise their full potential. To realise this goal, we focus on:
Strengthening health services to offer young people the sexual and reproductive health care they need without judgment or bias

Empowering adolescents and youth to make their own decisions about their bodies and their futures by changing community norms related to gender, adolescent sexuality, early marriage, and childbearing

Supporting young women and first-time parents to delay their first pregnancy and space their births for the best health outcomes for mothers and children
6. Malaria
As part of addressing the gravity of malaria in Kenya, World Vision has invested in improving prevention and management of the disease. This effort is in line with the National Malaria strategy's (2019-2023) goal of reducing Malaria Incidence and deaths by 75 percent (by 2023), towards a Malaria free-Kenya. The focus is on:
Vector control( Long Lasting Insecticide Treated Nets, Indoor Residual Spraying, Larval Source Management)

Malaria diagnosis and treatment

Prevention of malaria in pregnancy

Monitoring and evaluation

Operation research
World Vision Kenya continues to contribute to the progress made in Malaria control through multifaceted approaches key being control and prevention.
7. Tuberculosis (TB)
Our TB interventions are aligned to Kenya's National Strategic Plan for Tuberculosis, Leprosy and Lung Health (2019-2023).  It guides TB prevention, diagnosis and treatment approaches at the County and National level. We deal with the following:
TB care and prevention

M

ulti-Drug Resistance-TB

TB/HIV Integration
8. HIV & AIDS
Based on the Kenya AIDS strategic Framework (2014-2019), our fight against the disease focuses on the following:
Community-based HIV prevention

HIV awareness

HIV Stigma reduction

Capacity building of local health workers on Prevention of Mother To Child Transmission (PMTCT), Elimination of Mother to Child Transmission (eMTCT) of HIV and Anti-Retroviral Therapy (ART) education and adherence.
Projects and Grants