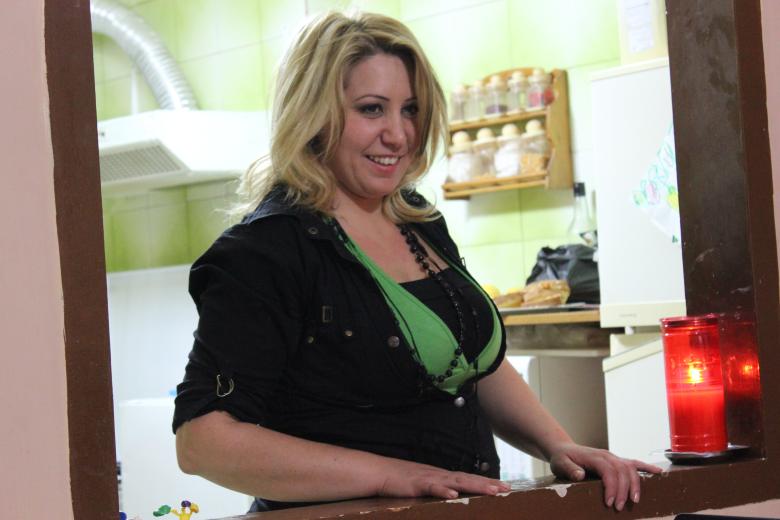 Thanks to mother action groups, Anno is a better mother and a missionary
Tuesday, August 14, 2012
Surrounded by 5 children, Anno graciously walks inside her house, moving from one room to another with a charming smile. Tall and strong, she's definitely not the same woman she was before. Time and experiences have shaped her character and made her a confident woman. Meeting her was a must as she spoke about her life. What she had to say about breastfeeding is not typically heard in her community.
Anne-Marie (also known as Anno) lives with her family in Hasroun, a town in the north of Lebanon. Having fallen in love at the age of 16, she married a man from her town who is 10 years older than her. "I watched my in-laws, and found out that it was not the life I wanted to lead," says Anno, as she recalls her early married life.
"A woman is not a statue to be displayed and looked at. I always had an inner feeling that there was something missing in my life, I longed for something without knowing what it was in real," explained Anno, as she thought about the past. 
Anno's house is situated in one of Hasroun's tight alleyways. Many houses were built around it over the years and she is now surrounded by concrete. Yet the house is cozy, partly due to all the plants. In that house, Anno gave birth to five children (three boys and two girls).
When they grew up and went to school, the empty feelings started to grow. "I got married at a very young age. I was like a child raising children, waiting for nothing, seeking for nothing! For me, kitchen is like a woman's cemetery and life is not only about food! There are many important things a woman can do to give meaning to her life, than staying in the kitchen the whole day," she said, complaining about women's position in her community, especially in rural areas.
Yet, Anno's thoughts are not consistent with the ones common in her village and do not really please the town's inhabitants. When meeting Anno and getting to know her more, one would immediately notice what a rebel she is! She's different from the mainstream, since wives have no real roles in society besides taking care of their husband first, then their children. This mentality was totally rejected by Anno and she looked for alternatives.
MAGs' impact on Anno's life
World Vision Lebanon started a health project in North ADP in October 2010 and created Mother Action Groups (MAGs), training and mobilizing women to give maternal and child health sessions at the community level, benefitting the health of sponsored and non-sponsored children in the area, and their mothers.
It was at one of these meetings that Anno was introduced to MAGs, and changes started to occur which affected the course of her life.
"At first, I didn't feel like joining, I thought I had no time to lose," stated Anno about her prejudgment of the MAGs.
Later on, she became fond of them and started attending all meetings: "In the beginning we were like ten ladies, and the number kept growing and growing time after time. The topics we learned about were very interesting: communication skills, interpersonal skills, health, breastfeeding… the knowledge we acquired made us confident to an extent that we were able to transmit it to our peers," she said as she proudly speaks about her experience with World Vision in North ADP. Taking part in the MAGs gave a meaning to Anno's life and makes her today one of MAGs most active members in the North.
Anno's experience with breastfeeding
"You could persuade me or change my mind about anything, except breastfeeding," Mireille Maatouk, the health project coordinator at North ADP, told Anno with great confidence, when they first met.
Anno had already taken a position toward this issue, when she gave it a try with her first baby. But she didn't try overly hard, and she did not really nurse any of her five children. She had a bad experience with breastfeeding, probably because it was imposed on her while she was suffering from the baby-blues. "My husband and I used to live at that time with my in-laws. When I delivered my first baby Fouad, I was very young [17 years old] and was not ready for such change. I was so tired and confused. My mother-in-law insisted that I breastfeed," explained Anno, remembering the birth of her first baby.
"I was physically weak and psychologically down and felt myself like a nursing machine, so I hated it and couldn't do it for more than one month! At that time, I thought why breastfeed when there's milk bottle? The latter was awesome in my opinion! And thus I stopped and never tried it again with my other four babies. For that nursing was a bad experience for me," says Anno with a sad voice, as she recalls her great frustration regarding breastfeeding.
"New mothers could be enduring post-partum depression without knowing, and this could be hampering the breastfeeding and making it hard, inconvenient and uncomfortable, for both mother and child. Many women do not recognize post-partum depression when facing it, and thus do not understand what is happening with them. Same for their surrounding which ignores the necessity to support them and give them love," said Mireille.
Breastfeeding must be sacred
Even when Anno did her best to breastfeed her last baby and to convince herself that breast milk is God's grace, she couldn't do it. "I wanted to breastfeed badly but my body did not help me, it rejected it! It turned me mad and depressed," she said with regret, now that she knows more about breastfeeding.
Two years have passed since World Vision's health project kicked off at the North ADP. The program highly influenced the community and is a success, and Anno is a perfect example of that. "When I attended the sessions, I was able to understand what used to happen with me after delivery, such as baby-blues, and the non-ability to breastfeed and many other health related problems. I have become a health expert now!" she proudly jokes. 
"Anno, like many other women part of the MAGs in North ADP received training sessions on breastfeeding, pregnancy and the physical and physiological changes during pregnancy, like post-partum depression, child development, home care for sick children, healthy nutrition and other maternal and child health topics. Anno didn't know about all this, yes she was a great listener, always motivated and grasping new information, ready to spread the word," explained Mireille, commending Anno and her participation in the project.
Anno is like a missionary
Regarding breastfeeding, Anno highly supports it today and strives to convince everyone in her community of its great necessity. "Breastfeeding must be sacred! Mothers should breastfeed and only breastfeed after delivery! They shouldn't be asked to do other thing while nursing. I am happy I managed to convince my sister-in-law and the town's women not to miss breastfeeding. It is great thing to do!" Her eyes shine when she describes the success of her enthusiastic promotion of breastfeeding.
There are over 200 sponsored and registered children in Anno's town. They can all rely on Anno to advise them and their mothers on how to take care of their health, body and mind. Thanks to Anno and the MAGs, sponsored children in Hasroun will enjoy good health in the coming years.
MAGs has changed the lives of many women, not just Anno. She is just one of many who was eager and eloquent enough to tell her story. Anno and all MAGs members have a wealth of knowledge and information they're willing to disseminate in their community for all their lives now. They're like missionaries executing great missions, missions that would have been impossible without them!