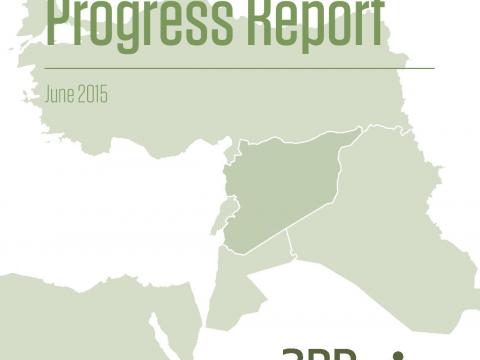 3RP Regional Progress Report June 2015
Thursday, June 25, 2015
A shortage of funds is hampering humanitarian and development assistance efforts to meet the needs of 3.9 million refugees who have fled the conflict in Syria, as well as more than 20 million people in affected local communities hosting them in neighbouring countries, according to a report released today.  
More than 200 partners in the Regional Refugee & Resilience Plan (3RP) in Response to the Syria Crisis are calling on the international community to act faster to deliver on their pledges of support to the 3RP. To date, only 23% of needed funds have been received.
To ensure adequate protection for refugees and humanitarian assistance for those in need, along with support for the resilience of host communities and governments, 3RP partners are calling for:
Increased solidarity and international responsibility-sharing with refugee-hosting countries

Enhanced refugee protection in the region and beyond;

More funds and more quickly to address needs and consolidate efficiency gains;

Support to a new aid architecture to better address the complexities and long-term impacts of the Syria crisis;

More support to strengthen the resilience of local service delivery for a more sustained response; and

Increased access to livelihoods to alleviate suffering, restore dignity and reduce social tensions.
THE CONSEQUENCES OF INACTION
Should the 3RP partners' call for action remain unheard, the consequences would be severe, leaving a generation of Syrians behind and neighbouring countries striving to provide a global public good they should not and cannot bear alone.  Levels of vulnerability and poverty will continue to rise and tensions between host communities and refugees will mount, contributing to further regional destabilisation, rolling back developmental gains. 
Consequences of underfunding of the 3RP across the region would include:
1.6 million people across the region will have further cuts to their food assistance.

Up to 1.7 million people may face winter this year without fuel, shelter, insulation, blankets or warm clothes.

752,000 Syrian refugee children will continue to not participate in education.

130,000 extremely or severely needy families will not be supported with cash assistance for basic needs.

Increases in morbidity and mortality, especially among children under five, women, and refugees with acute and chronic health conditions.

70,000 pregnant refugee women could face life-threatening complications, if timely emergency health care is not provided.