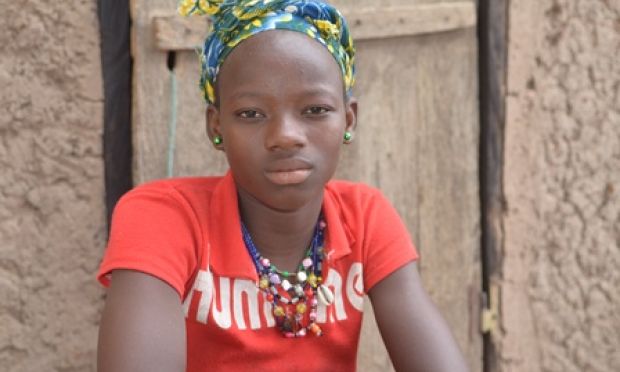 Bongosso is a village in the commune of Koroma in the ADP of Koloni. In this village, the respect for tradition has created serious problems regarding the right of children, especially the girls. Several of them are dropped from the school for early marriage, because they are victims of a tradition in which, the marriage is done by ''Restitution'' or ''exchange''
Children particularly girls schooling and early marriage constitute a challenge in the ADP areas in general for 13 years of age. They are dropped from school in the profit of marriage. The system of getting married is some time based on exchange according to the traditional way of living (exchange girls between families). For instance, a father could promise her daughter in marriage if a family give him a girl in marriage either for himself or his son. Moreover, it's also important to point out that some of the most performing students fail at the end of school year. Their parents remove them from school in the profit of animals caring and farms activities.
To address these issues, the CGS(School Management Committee) from each commune conducted round of parents' sensitization on the negative impact of girls' early marriage and children dropping out from school. The activity touched some 1136 parents including 216 women. Tiemoko TRAORE, father of Barakissa, says: "My daughter Barakissa is16 years old, she is in grade 8. She is among the best pupils in her class. Before her birth, we chose her husband, because in our tradition, when you when you married a wife, you should return one to her family.
Tiemoko should refund the mother of Barakissa to his wife's family in exchange for his daughter Barakissa.
"My daughter, despite herself, had promised my in-laws to respect this old tradition" tells Tiemoko.
After 8 years at school Barakissa should stop her studies to join her husband, according to tradition.
This situation seriously intrigued her father looking the solutions without releases this to avoid the marriage, because Barakissa likes school.
Barakissa gets her salvation through a meeting of parents that World Vision organized. Tiemoko, Barakissa's father, took part in the meeting, which focused on "sensitization on the negative impact of girls' early marriage and children dropping out from school"."After several questions of understanding about the advantage of girls' schooling, I have decided from this day to avoid my daughter a forced marriage". Said Tiemoko.

Thus, with the president of the school management committee, the negotiations were made with the beautiful family of Tiemoko, who accepted that Barakissa continues the studies.
As for Barakissa she tells us this "I refused forced marriage because I want to continue my studies, after my studies I will have a husband of my choice. I thank my father and mother who supported me in this fight. I'm sure that next year I will be admitted to my fundamental study diploma"

Barakissa thanks World Vision, which in its education program took into account the subject on girls' schooling, "Thanks to World Vision, my father and many other parents are out of obscurantism. Other girls of my age are victims of forced marriage. I invite all parents to send the girls to school and allow them to complete their study in order to prepare them, for a better future, "added Barakissa.