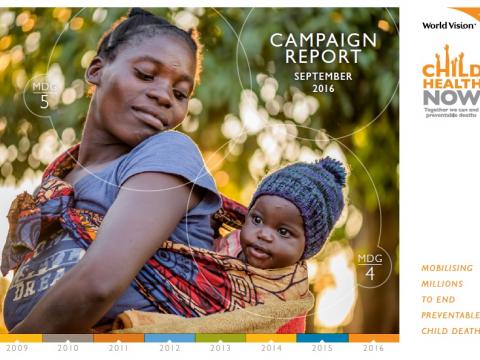 Child Health Now Campaign Report
Thursday, October 6, 2016
Child Health Now was World Vision's first global advocacy campaign, launched in 2009 at a critical juncture in the global effort to achieve lasting progress in child and maternal health. From its start, the campaign pledged to amplify the voices of the most-affected people in communities where World Vision operates, to hold governments to account, and to join hands with partners to multiply the potential for impact.
Offices in more than 70 countries took part in the campaign, including those facing high burdens of child and maternal mortality, fragile and conflict-affected states, along with coordinated advocacy and support from 15 high-income countries and at the global level.  Through the campaign, citizens across these countries have engaged and influenced policy makers and health systems, their voices reaching decision makers at the highest levels. Particular hallmarks of the campaign included empowering local stakeholders and investing in partnerships at all levels. The scale of change brought about by an array of coordinated partnerships and coalitions was greater than anything its advocacy could achieve in isolation.
Through its journey, Child Health Now has demonstrated that such coordination towards a unified goal can ignite a movement and harness momentum for meaningful change. This report is a review of the approaches, impact and lessons from this six-year campaign.