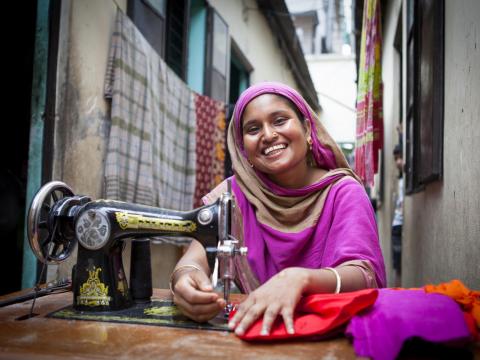 Microfinance
We work with community members to develop relevant skills for them to bring into the workplace. This not only provides a potential and sustainable livelihood for the future but also instils hope and aspirations for a better life. Our microfinance arm, VisionFund, works with potential employers by providing small loans.
Microfinance is part of the comprehensive Livelihoods sector approach to strengthen and secure livelihoods of rural households so they can provide sustainably for their children. The core features of the microfinance model focus on providing smallholder farmers and off-farm enterprises across the poverty spectrum, from extreme poor to vulnerable poor, with a comprehensive range of financial services such as credit, savings accounts, and insurance, delivered with high standards of service, so that rural families can thrive and recover from disaster.

The Microfinance model works alongside other Livelihood models to equip and empower the rural poor to have adequate and resilient income and assets so families can move out of poverty. But the greatest beneficiaries of thriving households are the children, no longer deprived of basic necessities and protected from harmful coping strategies poorest households sometimes turn to including early marriage, child labour, and sexual exploitation.
Who is using the Microfinance Project Model?   Malawi, Mali, Myanmar, Rwanda, Tanzania, Zambia
For more information, visit VisionFund, our microfinance subsidiary to read their Social Performance Reports showing how children and families are being impacted.