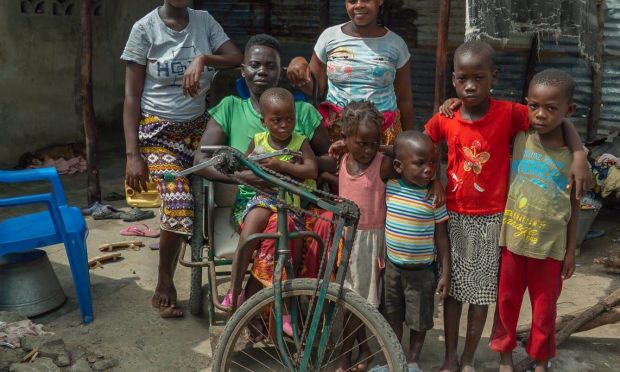 Normal 0 false false false EN-GB X-NONE AR-SA
The winds tore of the roof of Felismina's kitchen and flooded the house with storm water. Neighbours rushed to her rescue, pushing her wheelchair through the mud and debris to a nearby school and ushered her children to safety.
"My neighbours are very important to me," she explained. "When the cyclone came there were a lot of people who needed help but they came to me first, to help me and my kids, leaving their own children until later. People love me very much."
The family stayed at the school for a few days before returning to their home in the run-down neighbourhood of shanty huts in Mozamnbique's second city of Beira, two days ago.
Felisimina was already struggling to get by after her husband, a builder died, just over a year ago. At most she made $2 a day from selling her biscuits. On a bad day like yesterday, she sold none. But she still helped out a neighbouring mum who was desperate to feed her own children, handing over a few meticais (local currency). This is the way it is in her neighbourhood, people rely on those nearest to them in their desperation because at one time or other everyone needs a helping hand.
In the last few days, the family has repaired the kitchen roof, replacing the tin corrugated sheeting with some old pieces they bought and others that were salvaged. But they lost 20kg of rice that was ruined by rainwater which got into the house. Felisimina is now worried about the future, and especially about the needs of her children.
She says: "My kids need food, clothes, uniforms and exercise books." None of them are now in school because the classrooms don't have roofs and it's not possible to study.
The family of five is also sharing their three-bedroomed home with four relatives who lost their own place to the cyclone.
At the moment they are all surviving on two meals a day – breakfast and dinner. They are eating less and eating cheaper. Breakfast is porridge instead of their usual bread and tea.
Felismina is also struggling to sell her biscuits. The ingredients are more expensive so instead of increasing the price she is making them a bit smaller but folk are complaining nevertheless.
It's difficult to understand how Felismina gets about in her large heavy wheelchair. The shanty area is full of rough paths and strewn with waste and fallen branches but fortunately her home is close to her stall and getting over and around obstacles is purely down to her skill at managing the clunky wheelchair and the size of her biceps. In order to get into the house, she slides onto the ground, puts flip-flops on her hands and crawls across the threshold.
Keeping the wheelchair up and running is key concern. It costs 680 meticais ($10) to repair a wheel and tyre so although the tyres are old and worn Felismina uses them for as long as she can. A neighbour welds the frame when it breaks, for free.
There isn't a hint of self-pity for her situation or even a request for the assistance that is so needed.
Felisimina is a strong woman, emotionally and physically. She smiles a lot. There is a positive energy about her that others pick up on. It is easy to see why she is loved and why children warm to her, clambering all over her wheelchair. She has to be strong. Her five children – aged three to 17, depend on her.
"I'm used to this situation," she says. "I am always happy. I don't need to be angry with anyone."
As a Christian, she also believes God provides. "An example of that is the number of people who help me," she says. "I believe they are sent by God."
It's people like Felismina that World Vision is helping by ensuring distributions of food and emergency relief items that are being lined up for communities reach everyone regardless of who they are.