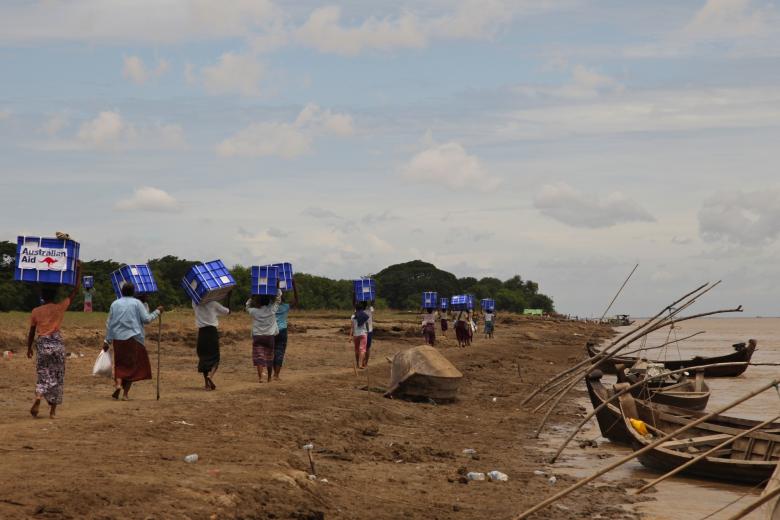 Despair in the wake of flooding
Friday, August 28, 2015
"I am very happy that I received these cooking utensils and others materials for my household. It is very useful for us when we return to our home to restart our lives," says Mar Mar, 30, a mother of an 8-month-old son.
The flood-affected families from the villages of Pwintbyu are displaced and staying in evacuation camps in Yenangyaung, set up by the government. 
Mar Mar is from Htoo village, Pwintbyu Township where severe floods occurred in early August. 
The people in this village are already vulnerable, most families can barely meet their daily needs, but the disaster made their lives even worse. Not only are their homes seriously damaged but they also lost their paddy and vegetable plants.
"Once the rain started, my uncle hired laborers and reaped his paddies and piled it up.  Unfortunately, all the paddies were underwater within a day and a night. He lost everything. I was so sad to see that," Mar Mar shared.
"Currently, we received rice, water and other materials, so we do not need to worry about living for the moment, but when the assistance stops, we will face difficulty," Mar Mar adds. 
"Water has now started to recede and we will return to our village. I foresee that we will face difficulty when we return as all our fields and plants are damaged," Mar Mar worried.
The floods combined with the release of water from the dam brought with it sediment and mud which damaged the paddy and vegetable fields. The sediment also blocked the tunnel that supplies water from the dam to the fields.  
"As we lost out plants, we will need paddy and vegetable seeds to regrow them," she said in a low voice.
"It is not possible to clear the sediment in a short time. We need machinery to remove all the mud deposited in the tunnel. In this kind of soil, the only suitable type of crop to grow is green gram (a kind of pea). They could sell it within 60 days and buy paddy seeds," Kyaw Lin Oo, an agricultural specialist who consults for World Vision Myanmar recommended. 
World Vision Myanmar distributed 500 family kits donated by Australia Department of Foreign Affairs and Trade, to families in five villages in Pwintbyu Township. A family kit includes the items like personal hygiene items, laundry soap, mosquito net, jerry can, kitchen set, blankets, candles, school materials, radio and water purification tablets. The organization also distributed P&G water purification sachets and demonstrated how to use them, to ensure people get clean water.
World Vision Myanmar is planning to help the flood affected communities with water and sanitation activities such as repairing of the damaged water sources in order to get clean water and construction of proper latrines to keep the environment safe and clean.