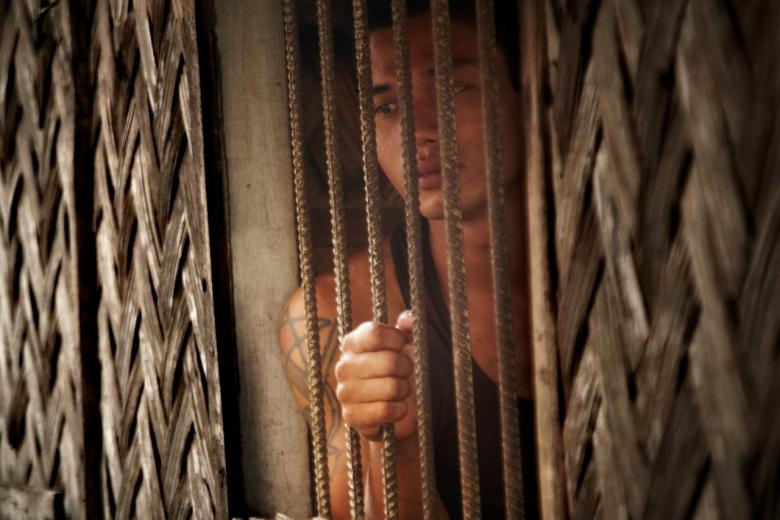 Escape from the sea
Monday, July 27, 2015
Htut was only 10 when he left his home to start working.
Together with his friends, Htut went to the Myanmar-Thailand border to work. There he met a broker who persuaded him to work in Thailand, to earn even more money.

"I went with the broker and worked as a mason at a border town in Thailand. On every payday, the broker took all my wages. It was like one year, so, I ran away as I could no longer bear work there," Htut says.

Htut met another broker who got him a job at a car workshop. Htut washed cars and earned 3,000 baht (about USD$ 100) per month but had to pay Thai police 500 baht every month for not having an official labour card.
"I had to work from 4 am to 11 pm. There was no medical care. We had to work even when we were sick. We were not allowed to go outside."
"After working at a car workshop for two and a half months, I moved to work at a fish pond as a guard. My wages were 2,500 Thai baht (about USD $83) per month. I was not allowed to leave and had to stay inside the compound, so I ran again," Htut recalls.

At this point, because Htut had lived in Thailand for several years, he spoke Thai very well.

"I moved to Bangkok and worked odd jobs as a painter and mason on construction sites for about 6 years."
"As I tried to look for new job, I met with a broker couple and they encouraged me to work in Indonesia. They promised me that they would send me back after six months if I was not happy. So, I went to Indonesia with them and got a job on fishing boat," Htut says.

"I was not allowed to return home. I earned only about USD $100 per month instead of the promised wages," Htut adds. "I had to work from 4 am to 11 pm. There was no medical care. We had to work even when we were sick. We were not allowed to go outside on the fishing boat and had to stay inside the fish processing compound only."

Htut asked to return home after working on the boat for one year but his attempt was rejected. Not knowing what he should do, Htut stayed for about 4 years.
"I had to work in dangerous conditions. Most of the time I had to dive in the sea to grab the net loaded with fish holding a knife, and then get back into the boat. My work required much attention, so I could not think of my home."
"I felt like I had no future. If I thought of my home and the experiences that I had faced, it was a painful thing. So, I tried not to remember that, instead focusing only on work."
"One day, I heard the news that we would be sent back home with the help of concerned authorities [Indonesia and Myanmar governments]. Our boat was no longer allowed to fish."

"We were sent to an island where we received medical check-ups. We also got passports after the process. We didn't have to work, the International Organization for Migration (IOM) supported our living costs."

"I spent three months there and finally flew home to Myanmar," Htut shares.

Altogether, 253 Myanmar fishermen, including Htut, returned home with the help and collaboration between the Indonesian and Myanmar governments.

The Central Body of Trafficking in Persons, the Myanmar Fishery Department of Yangon region, the IOM, and World Vision Myanmar welcomed the returnees and are lending their support with cash, transportation, and meal costs.
Htut, now 21, is back home in Myanmar. He hasn't seen his family for over 10 years. He eagerly wants to find his parents who moved away from his hometown just before his arrival.
After a short time living with an aunt and uncle, Htut moved to a new township. He is renting a 10 square feet room, which costs 35,000 kyat (about USD $28) per month.
World Vision Myanmar, through the End Trafficking in Persons Programme, is planning to provide room rental fees and household requirements such as cooking utensils, blanket, sleeping mat, and bed net.
More importantly, World Vision is working with the immigration department to get Htut a National Registration Card, an important document for a citizen of Myanmar. Once Htut is settled in his new township, World Vision will help him enrol in a vocational skills training programme.
As a terrifying chapter of life ends for Htut, hope is renewed. World Vision will support Htut and other returnees with counseling and empowerment for successful reintegration.