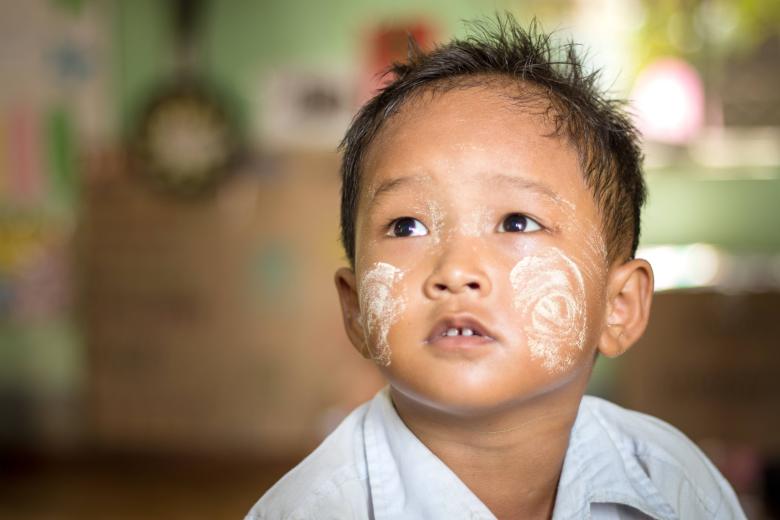 Four-year-old Shine Ko gains self-confidence in school
Tuesday, November 20, 2018
Sponsored child Shine Ko, four years old, is a student of Myit Tar Yaung Child Early Childhood Care and Development Center (ECCD) centre, an education centre supported by World Vision Myanmar in Thanlyin Township, Yangon. At a very young age, he loves to excel in school.
"Even though the school starts at 8 o'clock, Shine Ko would nag me at 7 o'clock in the morning to take him to the school," says Shine Ko's grandmother.
Shine Ko's mother is a factory worker and his father is a construction labourer. Because of the financial difficulties, both of his parents had to leave him with his grandparents to work. They only reunite once a week. He finds the centre a comfort place when he misses his parents. 
"The first day Shine Ko came to our school, he was quiet and did not interact with other kids. He would just sit in the corner while other children were playing," recalls Khine, a teacher from ECCD centre.
Shine Ko had a difficult time at first to fit in the new environment. He would just sit by himself in a corner and watch other students play. However, after several months, Shine Ko's behaviour has changed.
"He's now playing with other kids keeping up with the lessons. Though he was shy at first, he now has the confidence to stand in front of the whole class and lead them in reading," says Khine, teacher of ECCD centre."
The teachers are impressed with Shine Ko's progress. His grandmother is also delighted to see Shine Ko is having fun and being safe when he is at the centre.
"I'm very glad that he is enjoying and learning at the centre. I don't feel safe leaving him with the neighbours when we are not around. I think this centre is a safe and great place for my grandson to grow up," says Shine Ko's grandmother.
Shine Ko is regarded as one of the smartest students in the centre. Not only he is smart, but he also takes care of younger students. Shine Ko's favourite activities at the centre are reading, painting and playing.
"I want to be a soldier when I grow up because they are so cool," says Shine Ko .
Myit Tar Yaung Chi ECCD centre was built in collaboration of the community and World Vision Myanmar. Supporting and strengthening ECCD centres is one of World Vision's main focuses in empowering the most vulnerable children in the community so that more children like Shine Ko will be educated for life.