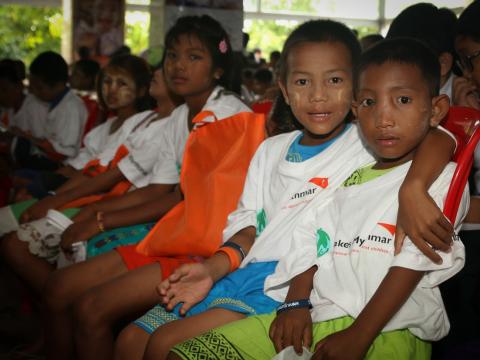 It takes Myanmar to end physical violence against children: one year on
Tuesday, October 2, 2018
Children are beaten sometimes very severely by their parents, relatives and even their caretakers. Often objects such as belts are thrown at them as a way of punishing them for wrongdoing.
According to a 2012 situation analysis of children in Myanmar, corporal punishment is widespread both at home and in schools-particularly primary schools. In this age of social media, cases of sexual and physical violence against children have become more frequently reported.
In mid-2016, World Vision conducted Focus Group Discussions in Myanmar and found that children experienced labor, sexual exploitation and violence as well as physical violence. This included corporal punishment-that emerged as an issue of concern among communities. This is unacceptable and intolerable. This needs to be addressed collectively so that children are safe and protected.
World Vision, one of the leading international NGOs speaks out boldly against issues of violence against children. 
Through the global campaign, "It Take A World To End Violence Against Children" launched in 2017, World Vision has been able to galvanize key stakeholders to call for an end to violence on children, particularly "ending physical violence against children, at home and in school" which is what World Vision Myanmar has named its campaign to be running for five years.
Following the official launch of the campaign with support from the government, public launches were organized in one administrative state and two regions. Supports from well-known celebrities made the campaign fruitful.
With the branding of the campaign with the #Startwithme tagline World Vision Myanmar is hopeful that physical violence against children will end when everyone starts to take action.
For the last year, World Vision has joined hands with the government, faith leaders, partners, celebrities, communities, youth and children to spread the message.
"I am very glad to be part of this campaign in order to stop physical violence against children," says Ah Moon, well-known singer in Myanmar. "I will keep spreading the words and awareness through the activities in my everyday life," who joined the public campaign last year and has been instrumental in delivering message through songs.
"Violence against children degrades children and creates negative impact on them. Government of Myanmar is collaborating with both international and local NGOs and civil society in developing prevention and protection programs to effectively address the issue." says Union Minister of Ministry of Social Welfare, Relief and Resettlement.  
Within a year of starting the campaign, World Vision has been able to raise awareness to over a thousand people through public events.
The churches also actively participated and dedicated to speak about the campaign to their congregations.
As it enters the second year, World Vision will expand its campaign by developing joint action plans with partner organizations for wider impact.
World Vision will continue to implement the campaign through public awareness and remains fully committed to end physical violence against children in Myanmar, spurred on by the personal tagline: #startwithme.