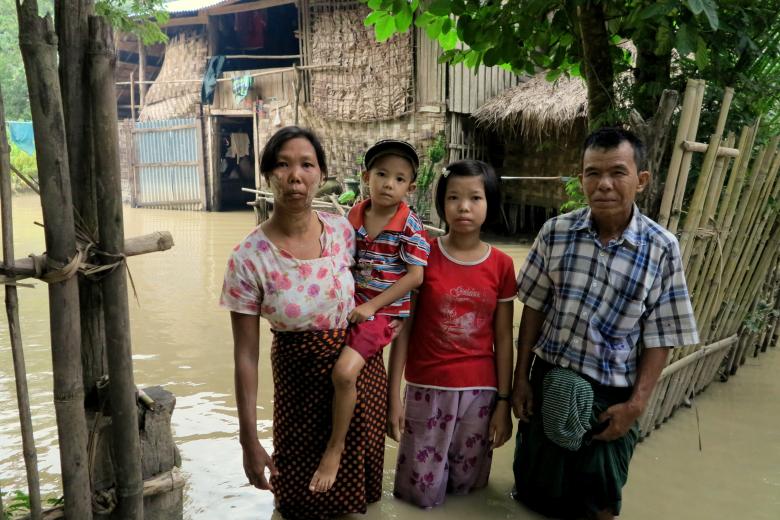 Myanmar Flooding: What mothers in Delta region are afraid of
Wednesday, August 12, 2015
Daw Yin's Worries
"I only knew that the water had already flooded our home after I woke up," Khin recalls.
"I did not expect that the water would increase that much. I only knew around 6 in the morning that the water level was increasing and flooding our compound. And I went to the paddy (rice) field to work. However, when I came back home after work the water level had already reached to my knee. So we quickly moved our rice, household utensils and fire woods upstairs," shares Daw Yin, Khin's mother.  
"Then, we put together our family registration forms, farm land documents. And we packed our clothes, school exercise books and accessories, blankets and mosquito net. We prepared to move to higher ground if the floods got worse," says Daw Yin, a mother of two.
"I helped my mom collect clothes, carried fire wood and water," says Khin.
"I worried about how we are going to survive. Increasing floods have become a real concern for me. Availability of clean water is also a big concern. I worried for my children's safety on their way to school and their way back home after school. I did not have a good sleep in 6 days," says Daw Yin.
 "I am afraid of snakes" shares Khin.
Ma Thida's Fears
"I have never experienced that much flood. Transportation is so difficult and we do not own a boat. It is not easy to get market to buy groceries" says Ma Thida, a mother of one.
"I packed necessary things and prepared to move on higher ground if the flood got worse, such as family registration forms, clothes and other documents," adds Ma Thida.
"I worried of drowning as me and my son cannot swim, and yet increasing water level has frightened me," says Ma Thida.
Daw Cho Khaing Worries
"Since I heard that the water level is going to increase, I packed my family documents and alerted my neighbours about the flood. The water started to flood in the middle of the night while we were sleeping. Our family promptly moved to higher ground," says Daw Cho Khaing, a mother of two.
"I worry about the safety of children from harm such as snakes and other animals and insects as they need to go to toilet at night. We have difficulties with food and water. We don't have enough space to cook and do not have available clean water to cook," she adds.
"We have been in this evacuation centre for 8 days; most of the families in here do not have breakfast because we have no clean water and fire woods to cook. Every night, we could not sleep well because of crowded, noisy and bad smell from public toilet" shares Daw Cho Khaing.