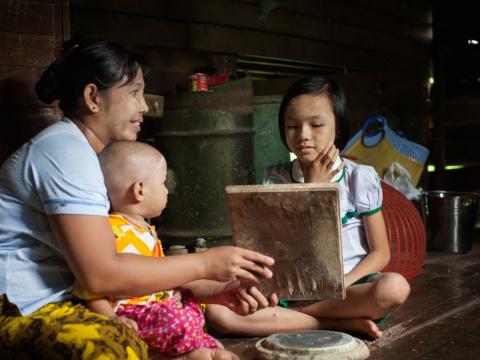 School journey: Across rice fields, knee-deep mud, and a river
Thursday, September 3, 2015
With the help of her mom and toddler brother, she prepares for her school day. Her class is six hours long.
Aye Aye knows exactly how to keep herself from slipping. She's been taking this 30-minute long walk on the muddy village track since the start of the rainy season.
Her friends and her father agree that walking is the best way to pass over the muddy road before reaching the next leg of the journey- a 1.5 hour boat trip to school.
"We walk barefoot in the mud. If we walk with shoes, it is more slippery. Only when we get to school it is better to wear shoes," explains Aye Aye as if she is an expert tour guide of her village.
After the 30 minute walk, Aye Aye and her friends wear calf-length mud 'socks'.
They wash off the mud with river water before jumping on the boat heading to school. "I love riding the boat with my friends," said Aye Aye. Her dad is the one who handles the motor boat for the children to go to school, then he goes to work as a fisherman.
"Sometimes when we reach school, our uniforms are a little bit splashed with mud, but it dries out at school" said Aye Aye.
On the white board at school it says, Learning is accomplished only when a person tries to learn with his or her own effort. The effort of Aye Aye and her friends to get to school demonstrates this slogan everyday.
In the summer season when the road is dry they can go to school riding on this truck, making the journey only about 45 minutes.
By attending school, Aye Aye's parents believe she will achieve good things in the future. "Mother and father say that only when I am educated, I will not be doing tiresome work."