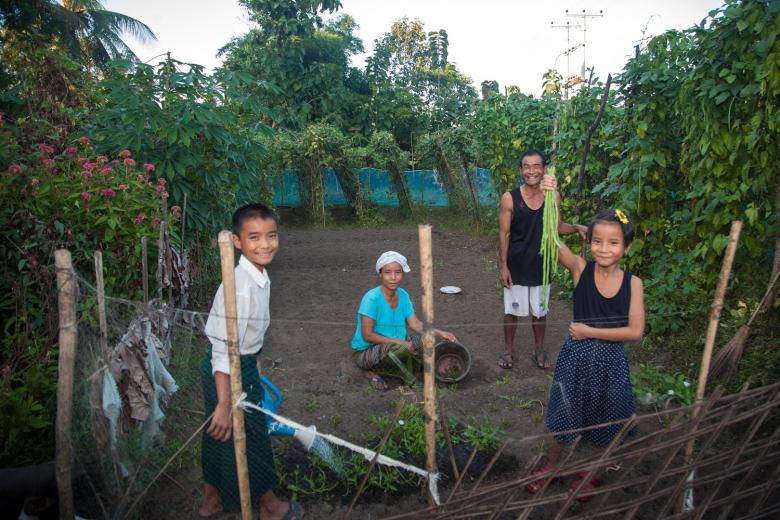 The success of Home Gardening
Sunday, December 24, 2017
Inside a little garden filled with seasonal crops and vegetables, a middle aged man is watering his plants. His name is U Maung Pe. He is 45 years old and the father of two children. He works as a seasonal farm laborer who hires himself out locally, while   also working as a day laborer in his village.
He is also one of the local residents who participated in World Vision's home gardening training project in the Hlaing Bwe ADP. It's been almost over a year since he completed the course, and U Maung Pe says he's noted a big improvement in his crops since the first time he attempted to grow them at home several years ago. Although he had high hopes for his initial efforts, he soon realized that without proper agricultural knowledge, the outcome was not as good as he hoped when he started his own home gardening.
When World Vision started it's home gardening project in Hlaing Bwe ADP, U Maung Pe attended the agricultural training sessions and learned about new organic methods to cultivate plants for home gardening, including using worm cast as fertilizer.
"I'm happy that I had the chance to attend the training from World Vision. I now know what the best way is to grow the vegetables and how to breed worm-cast for fertilizer. Also, the result of worm cast is amazing, my plants are now bigger in size", he says.  World Vision supported U Maung Pe and the other members of the community by providing different seeds (seasonal seeds) for home gardening and the necessary training for growing them.
U Maung Pe followed the instructions and started home gardening again. This time the results were much better. "I don't need to worry anymore about buying vegetables for my kitchen. And It is also enough to pack lunch boxes for my children", Daw Soe San Oo, U Maung Pe's wife shared how home gardening has changed the situation of the family.
Thanks to their improved crops, the family now can save up money and can access the fresh vegetables planted with organic fertilizer. The garden is now filled with seasonal vegetables except for two hottest months in summer, which are March and April.
"It's more than enough for our family that we can even share the vegetables with the neighbors," says U Maung Pe.
Because of the training he received from World Vision, U Maung Pe is now determined to continue growing seasonal crops in his garden and save money for his children's education. He also hopes to introduce home gardening method to others in the village by showing them the results of his own garden.