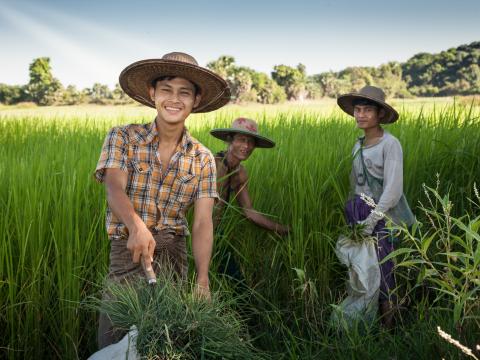 Transformed Htaw giving back to his community
Thursday, June 22, 2017
"When I was in grade 10, I didn't have textbooks for every subject in my class. My classmates looked at me as an inconvenience because they didn't want to share their textbooks with me" – Htaw, a primary school teacher, recalls his high school memory.
Htaw's path to becoming a school teacher was not a bed of roses. His parents were paddy fields laborers with daily wages of about one dollar each.  During harvest seasons, Htaw helped his parents on school holidays from 6 in the morning till 5 in the evening for extra income. Despite all the hard work Htaw only gets paid 0.8$ per day.
Htaw did not give up on his education despite the fact his parents could not afford to support him. Every day, Htaw had to walk one hour to get to school. "With all the discriminations they (his friends) put on me, I decided to stay at the top in the whole class to silence everyone," said Htaw. At the end of the school year, he got first place in his class.
"Life in all its fullness – that's the phrase that I will always remember in my life. For the poor like us, it means a lot" said Htaw.
Htaw's first meeting with World Vision Myanmar was back in 2003. He was hospitalized in Thabaung Hospital for 3 months with pneumonia and a damaged kidney. When he had to transfer to Pathein General Hospital, Htaw's father was on the verge of giving up on his son's life since he could not support the expenses for hospitalization.  Htaw's entire family was happy that World Vision took care of all the expenses - food, medicines and hospital expenses.
"I thought I was dead man back then, throwing up all the food that went into my stomach. Actually, it's World Vision Myanmar that helped me to become the person I am today," Htaw shares his memory of life and death.
After being discharged from the Hospital, Htaw continued his studies. Everyone at school thought it would be difficult for him since he had been away from school for some time. But Htaw, with a strong determination, did not give up. He tried his best to pass the exam regularly at the end of each year. World Vision supported Htaw's family with education and health support in order for him to continue his study. But once he became a student in final year of high school, the tuition fees, stationary fees, and living expenses got more expensive.
"Because we couldn't afford for all the expenses, I thought I would ask for help from World Vision. It worked out well when World Vision gave me 25$ per month for the whole school year" said Htaw.
During the time he was living in a hostel close to school, his eyes started to hurt every time he read and the headache would make him fall asleep while studying. When the doctor said his eyes need to be operated, Htaw lost all hope in continuing his studies for he didn't have much money for the operation.
"I was thinking about quitting school because I couldn't afford to pay for tuition and operation fees at the same time. But then, I thought there must be another way" said Htaw.
Htaw tried his last hope and requested financial support from World Vision for his eyes' operation, although he was not sure he would get it. World Vision did fulfill the last hope for Htaw. The agency gave him 100$ for operation, Htaw's dreams became alive again. Htaw passed high school exam successfully.
"I want to thank World Vision Myanmar and the doctor who helped me with my eyes. I would not be able to do it if it wasn't for them" said Htaw. His father was also one of the happiest people for his son's achievement. Htaw is the first one in their generation who passed high school and graduated.
In May 2013, World Vision bought two bulls worth 600$ for Htaw's family. They used to have 1.5 acres of land before they sold it in 2007 for Htaw's school expenses. The family couldn't do much without the land to grow. Thus, they sold the bulls to buy 2 acres land which helped Htaw's to continue his study in Practicing School Pathein Institute of Education until his graduation which was last year.
"World Vision will always be in my heart and I pray that they would continue helping children in need as they did for me. Also, I will try my best to help other children as much as I can from now on," said Htaw. Htaw is teaching children in Kyun Kone Primary School near his village. He is also a second-year student in English Studies Distance Education.