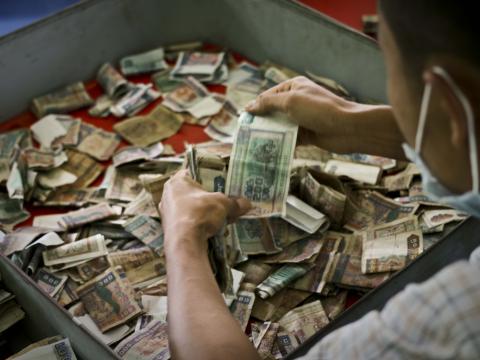 Vocational training helps Aung finds his path
Thursday, March 29, 2018
Nineteen-year-old Aung used to carry the weight of his family on his shoulders after  his parents'   divorce.  His mother's second marriage put him in an equally difficult situation for his step-father doesn't work for his family. Being the only source of the family's income, Aung tried every way he could to support them, including farming during harvest seasons and fishing during rainy seasons. Despite his hard work, he earned only about 4,000 kyats ($3.50 USD) per day.
"Although I had to quit school to work as day laborer on someone else's farm so that I can earn income to support my family, I always wanted a better life for us," Aung says. 
Deep inside Aung's heart, he always wanted to learn new things  and have a better life for himself and his loved ones. As opportunities always come to those who long for them, Aung heard news that World Vision offered to support the training fees for vocational training for the young people in the village. Leaving everything behind and hoping for brighter days, Aung headed to Mandalay where he is going to attend Mechanical and Driving vocational training programme.
"My mother did not agree with me about joining the vocational training. She even tried to find someone to replace me in the programme. So, I had to fight hard for my future. It's not easy to leave my mother behind," Aung sadly explained the difficulties he faced.
After three months of t vocational training, Aung got a job at a city bus company, in Yangon  As a cashier, he counted the money received by the buses, and began earning 100,000 kyats ($80 USD). With focus and dedication, he was promoted to a higher position within three months of his arrival. Earning 250,000 kyats ($192 USD) monthly now, Aung is able to regularly send money back to his family, living in Bogale, Ayawaddy Region. After transforming from a boy who was earning 4,000 kyats to a young man who has a stable monthly income, Aung now dreams about becoming a regularbus driver for the company.
"I've never thought that I can come this  far and thanks to World Vision Myanmar, I'm now at this place. I don't plan on stopping just here. I know I still have a long way to go and I will get there no matter what," Aung says.
Since April, 2017, 45 youths have completed the vocational trainings of Growing Livelihood Project (LIFT 3) in Bogalae. World Vision also helped the youths with getting suitable jobs after the vocational trainings. Out of 45 youths, Aung and other 18 youths have already got jobs in Yangon and now able to support their family