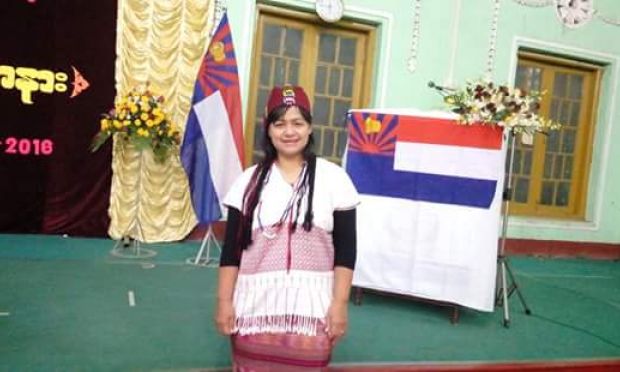 "World Vision transformed my life" Ma Lay proudly says.
Working at World Vision Myanmar for over 18 years, Ma Lay believes that the organization transformed her life. She even goes further and say that she have been brought up by World Vision.
Ma Lay was brought up in a very normal but needy family. Her father was alcoholic and her mother was a midwife. She is the youngest among four siblings in the family. Seeing the need in the family, Ma Lay started to work at a young age.
Her parents could not afford to send all children to school. The priority was given to her elder brother to study. So, Ma Lay worked and paid for her own studies.
At the age of eight, Ma Lay was sent to a local business man's house to help with their grocery business. "I worked before going to school and after returning from school. During summer when the school was closed, I worked and saved money for my next school year. It is just enough for my education. So, my parents didn't have to worry for me," Ma Lay recalled.
Ma Lay struggles for her school life until she graduated from a university. "I worked all kinds of job which would give me money including selling food just to earn money for school.
I desperately wanted a job after university. But had difficulty in finding one.
"Through one of my friends, I got connected with World Vision and applied for the job at Street Children project. I confessed at the interview that I knew nothing but I would do my best to perform the work assigned to me. I think, due to my strong commitment and enthusiasm, I got a job," Ma Lay shared.
"World Vision Myanmar is my very first workplace and I enjoy working here until now. When I first joined the organization, I didn't know how to talk to community partners and how to present our work. God gave me a good supervisor. He encouraged me and taught me how to speak in front of the people. He also took me to the government offices and showed me how to deal with high level people. All those experience make me a good manager now," Ma Lay proudly said.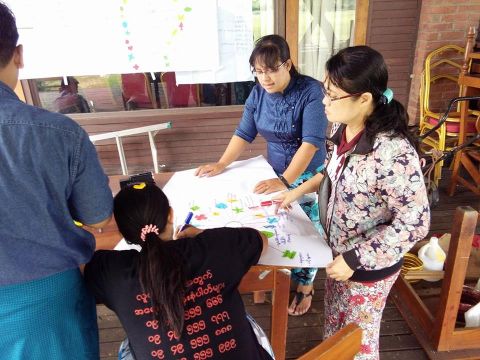 Ma Lay, although the youngest, supported her parents' medical costs. She devoted most of her time working for the community. She was not even aware of her mom's serious health condition. Thank God that, she was able to stay with her mom on her dead bed.
Ma Lay, amidst her struggle for life, she never failed to help the people in need. One day when she was in the community, a man approached her and asked for a trishaw fees to bring his pregnant wife to the hospital. The money left in Ma Lay's hands was just enough for the last week of the month to survive. However, she gave half of her money to the man.
"I was very happy that I could help him. Their condition was worse than me. With my money, he could bring his wife to the hospital to deliver a baby. I felt like I saved two lives,' Ma Lay excitedly shared.
Ma Lay's habit of saving money afforded her to buy her own house. Ma Lay now possesses an established life. She got married and has two sons. She is now a manager of an Area Development Program and manages over ten staff, sponsorship program and projects like health, livelihoods and the establishment and strengthening of community based organizations.
During her over 18 years of experience, Ma Lay has served in different roles. "In all my different jobs at World Vision, I always got a good supervisor. They all taught me and encouraged me to try new things,"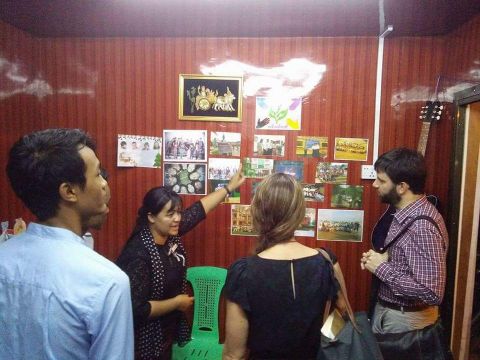 With her childhood struggling experiences, Ma Lay has a strong desire to help the poor community. Her strong desire allows her to serve long term in World Vision. She also teaches her staff to be humble and give the best of their efforts to help the poor.
"This was what I have learned from my mother since my childhood. She always taught me to humble, to show our love to others,"
Ma Lay says that World Vision is her everything.
"World Vision is like my parents. I could say I have grown up here and established here. World Vision allows me to possess house, World Vision enables me to look after my parents and my single sister. World Vision encourages me to pursue higher education. WV gives me opportunity to visit Korea, India and Cambodia and learned from Support Offices. World Vision becomes my everything," Ma Lay shared.
Ma Lay is proud to see the development in the communities where she serves.
"World Vision helps not only my personal life but also the lives in the communities. I see the transformation in the children and the families' lives. Children go to school, youth groups established and empowered, families lives improved through livelihoods,"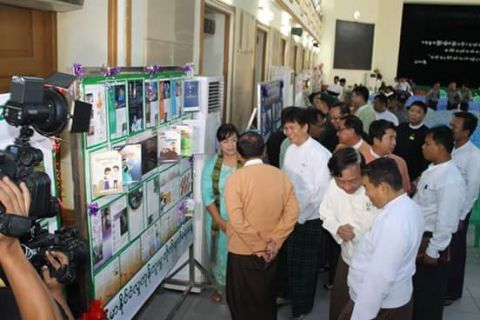 "I have learned through the difficulties and success, happiness and sadness which I encountered daily and helped grow myself. For this, I want to thanks World Vision for giving me such valuable experience," Ma Lay smiles.
Ma Lay's motto is based on the bible verses in Psalm 23 (The Lord is my shepherd) and Mark 12:31 (Love your neighbor as yourself).
Ma Lay is a strong woman for her parents, her own family, for her staff. She stands bravely for the communities she serves to make their lives better. World Vision Myanmar is proud to have such strong staff in the organization who is enthusiastic, passionate and committed on the work.