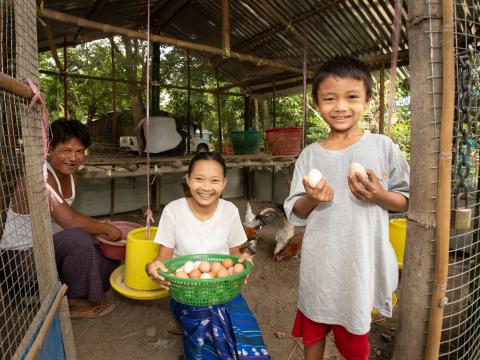 Livelihood & Resilience
In order for children to grow up healthy and have access to education, it is important that parents are able to provide well for them. World Vision targets the most vulnerable families to ensure they are equipped to satisfy their basic needs, send children to school and improve or start livelihood activities. This is done through Savings and Loans, improved agricultural practices & home gardening, animal husbandry, vocational trainings & income generating activities.
Achievements in 2018
130 new groups set up bringing total to 1,532 Village Saving and Loan Association (VSLA) established, including 181 child led VSLA groups.
30,000 members from vulnerable households accessed loans ($....) from their community led savings ($1.5 million) portfolio.
1.5 million total saving
5,000 household produced food through home gardening
6,000 household supported with livestock to improve their income
2,545 fuel efficient and safer cooks stoves distributed with access to alternate fuel sources and impacted 12,969 beneficiaries.