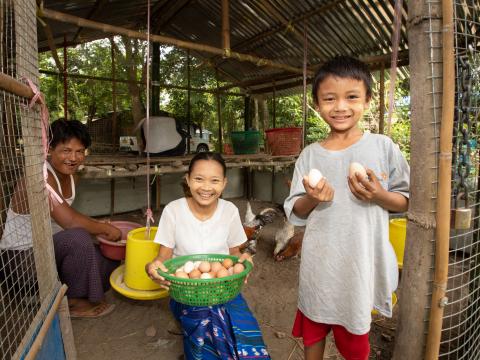 Livelihood & Resilience
In order for children to grow up healthy and have access to education, it is important that parents are able to provide well for them. World Vision targets the most vulnerable families to ensure they are equipped to satisfy their basic needs, send children to school and improve or start livelihood activities. This is done through Savings and Loans, improved agricultural practices & home gardening, animal husbandry, vocational trainings & income generating activities.
Achievements in 2021
47,622 most vulnerable households received food assistance.
2,015 households received home gardening training and input support improving food security and nutritious status of 10,075 family members.
1,484 farmers received agricultural inputs to increase crop production.
1,434 Savings for Transformation (S4T) groups with 31,000 members supervised to remain active.
390 youth and women received vocational training.
2150 vulnerable children supported in partnership with VisionFund Myanmar (US$ 300,000 loans disbursed to 694 households).