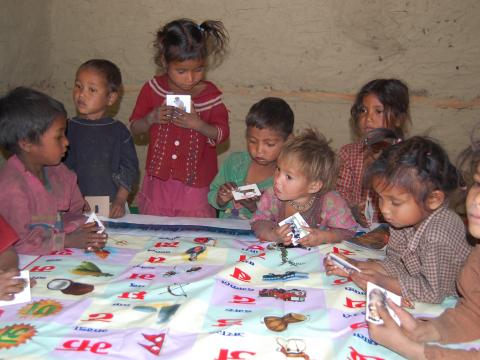 About Us
World Vision is a Christian relief, development and advocacy organisation
dedicated to working with children, families and communities to overcome
poverty and injustice. Motivated by our Christian faith, World Vision is
dedicated to working with the world's most vulnerable people. World
Vision serves all people regardless of religion, race, ethnicity or gender.
World Vision started out in Korea in 1950 to meet the needs of children
orphaned by the war in Korea. From there, the programme expanded to
other Asian nations and gradually spread to nearly a hundred countries.
World Vision in Nepal
World Vision started its long-term development work in Nepal in 2001.
Over the past years, World Vision International Nepal (WVIN) has
worked for the well-being of children partnering with communities in 14
districts of Nepal. At present, WVIN's development programme is being
implemented in 11 districts namely Achham, Doti, Jumla, Kathmandu,
Kailali, Lamjung, Morang, Rupandehi, Sunsari, Sindhuli and Udayapur.
After the devastating earthquake struck Nepal in April and May 2015,
WVIN responded with immediate relief followed by recovery efforts
in the worst-hit districts of Bhaktapur, Dhading, Dolakha, Gorkha,
Kathmandu, Lamjung, Lalitpur, Nuwakot, Sindhuli and Sindhupalchowk
working alongside humanitarian stakeholders, government and community
partners. WVIN is currently working in Gorkha, Sindhupalchowk and
Nuwakot districts to help families bounce back and strengthen their
resilience with interventions in the areas of livelihoods, shelter and
infrastructure, and Water, Sanitation and Hygiene (WASH).
Area Development Programme (ADP)
ADP is our primary approach to carry out the transformational development in the community where we work. ADP is a long term development programme (10 to 15 years) in which World Vision works with the poor and its partners in specific, defined, targeted geographical locations to address micro and macro poverty issues in the sectors of Maternal Child Health and Nutrition, Education, Livelihood, Water, Sanitation and Hygiene (WASH) and Child Protection.
Programme Partnership
World Vision believes that partnering with others is a key factor in bringing about lasting changes in communities. WVIN partners with government, community groups, NGOs and the private sector; WVIN adopts a multi-stakeholder approach to partnering, recognising that all of these different groups have an important role in creating change. The nature of the partnering relationship varies depending on the issues being addressed, and the resources and capacity of the different partners involved.
How we are accountable
World Vision is accountable to private and government donors, to public agencies charged with legal oversight, to our funding offices and to those whom we serve. Internal and external audits and evaluations are conducted regularly to ensure efficient and effective use of resources.
How we are funded
We receive funding from private donors and bilateral agencies through our support offices in the partnership.