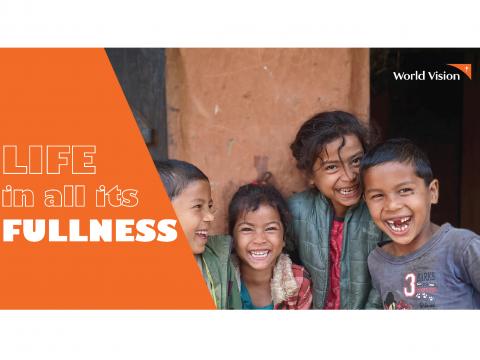 About Us
World Vision is a child focused relief, development and advocacy organisation that has contributed to transformation in the lives of millions of children around the world in vulnerable situations. WV aspires to achieve this through partnership with local communities, civil societies, government and private sectors where we believe in mutual participation and trust, shared vision and goal, accountability and responsibility.  We are child focused organisation driven by Christian values to serve children and families regardless of their religion, age, gender, ethnicity, class and caste.
World Vision in Nepal
World Vision International (WVI) Nepal is a part of the World Vision International global partnership operating in more than 100 countries. WVI started its long-term development programme in Nepal since 2001 to contribute for well-being of children. At present, WVI Nepal has long-term development programmes in Udayapur, Sarlahi, Mahottari, Rautahat, Sindhuli, Kathmandu, Lalitpur, Lamjung, Jumla, Kailali, Achham, Doti, Bajhang and Kanchanpur across six provinces of Nepal.​​​​​​
Area Development Programme (ADP)
ADP is our primary approach to carry out the transformational development in the community where we work. ADP is a long term development programme (10 to 15 years) in which World Vision works with the poor and its partners in specific, defined, targeted geographical locations to address micro and macro poverty issues in three sectors (Child Protection, Education, Nutrition and Resilient Livelihoods - NRL).
Programme Partnership
World Vision believes that partnering with others is a key factor in bringing about lasting changes in communities. WVI Nepal partners with government, community groups, local NGOs and the private sectors; WVI Nepal adopts a multi-stakeholder approach to partnering, recognising that all of these different groups have an important role in creating sustainable change. The nature of the partnering relationship varies depending on the issues being addressed, and the resources and capacity of the different partners involved.
How we are accountable
World Vision is accountable to private and government donors, to public agencies charged with legal oversight, to our funding offices and to those whom we serve. Internal and external audits and evaluations are conducted regularly to ensure efficient and effective use of resources.
How we are funded
Guided by its global child sponsorship standards in maximizing child well-being from our programme, WVI Nepal works with WV's global office, funding or support offices throughout the world and receives funding from individuals, foundations, corporations, multi-lateral agencies and governments. 

Long term private funding commitment from individuals called child sponsors as well as short term funding commitments from corporates are our primary and predominant funding sources. We receive goods supported by private sector through our support office and get institutional funding from multi-laterals and bi-lateral agencies as grants. Grants allow us to further deepen our impact among children, their families and their communities.

We work in accordance with our global financial and accountability standards and take the stewardship of the resources of our donor seriously. We set high standards of professional competence, best practice and financial accountability for what we do.