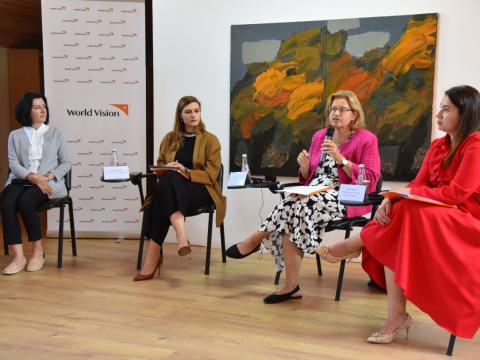 "Empowered women, empowered children" Research - Albania
Wednesday, May 18, 2022
Press release
The research- "Empowered women, empowered children"
Only 1 % of surveyed Albanian women are empowered through all relational factors [1],
and only 6% of the surveyed children achieved well-being through all factors [2].
18 May 2022 – For the first time in Albania a study is launched focusing on the relationship between socio-demographic and empowering factors of women with the well-being of children in Albania.
According to the results of the research, an empowered mother raises empowered children. This is one of the main findings of the survey conducted by World Vision Albania. As a result, mother's empowerment is closely related to positive attitudes towards learning and gaining new knowledge. In addition, mothers involved in family decision-making have access to legal aid and manage to protect their children from violence.
The data gathering for this study was conducted in the period May-June 2021. 464 children aged 11-17 years old and 464 women (mothers) aged 35-50 years old in eight cities [3] of the country were part of it. The collection of quantitative and qualitative data was carried out through telephone calls to avoid infection and spread of COVID-19 in accordance with the protocols in power during the period when the data were collected.
Child well-being is essential, therefore investing in mother's empowerment and addressing issues, including harmful social norms, is a precondition for raising educated, self-confident children and active citizens of tomorrow.
The study
The study aims to support with data the link between the empowerment of women and the well-being of the child. The data of this study gives a snapshot for 8 areas of Albania and are not exhaustive for all dimensions of the mother-child binomial. The study serves as a basis for well-informed interventions in this sector. The main findings are found here: 
---
[1]To determine the empowerment of women through relational factors, five essential indicators were selected, namely: decision-making power in the family, control over family assets, control over time, the ability to redistribute the burden of caring for the family and experiencing gender-based violence.
[2] Education, nutrition & health, child protection, psychosocial development, mental and spiritual well-being.
[3] Dibra, Durrës, Korça, Kurbin, Lezha, Librazhd, Shkodra, Tirana.