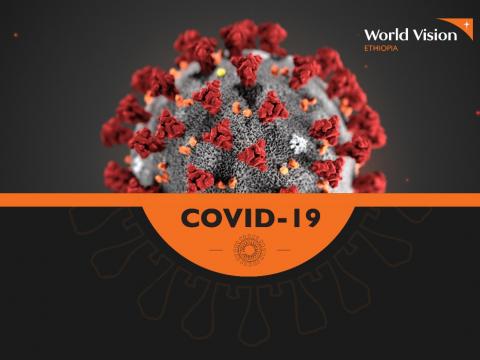 World Vision mobilizes for COVID-19 mitigation and response in Ethiopia
Friday, April 3, 2020
FOR IMMEDIATE RELEASE
(01 April, Addis Ababa)
World Vision has designated over US$ 1.7 million (more than 57 million Ethiopian Birr) from long-term child sponsorship funding for potential use at Kebele (smallest administrative unit in Ethiopia), community and even household levels, based on local needs and requests for prevention and mitigation of the impact of the novel coronavirus (COVID-19), particularly on children. In alignment with the Ethiopian Government's preventive measures to contain the spread of COVID-19, World Vision is also revising its project plans in close communication with its generous and responsive donors including the U.S. government, European Union, and the UN. 
"We are grateful to have short-term emergency and long-term funding that enables us to flexibly adapt to serve communities in any case scenario," said National Director Edward Brown. "We pray that the number of confirmed cases remains low, but even without community spread, it is having a significant impact economically and socially as preventative measures are limiting productive activities, access to education, goods, and services."
To preserve the extraordinary development gains from recent years, World Vision is adjusting its approaches to enable it to continue to serve communities quickly and even remotely. 
"We are using technology to enable our staff to work and communicate wherever they are, maintaining social distancing," said Support Services Director Tigist Kelemework. "The fact that World Vision hires locally and our staff live in the communities we serve, we have always been able to serve and support people even during insecure situations when other organizations evacuate," she added.  
"Our field staff teams in all the 52 Area Programmes as well as Dolo Ado and Gambella refugee camps are ready to support government efforts by promoting prevention behaviours, offering essential health advice and psychosocial support, and engaging health authorities," said Samuel Tilahun, Humanitarian and Emergency Affairs Director. "We are also working closely with local officials to respond to ongoing needs including water, sanitation, hygiene, food security, nutrition, health and even long-term essentials like education and employment." 
The COVID-19 response will focus on three pillars: prevention of transmission, focusing on strengthening health systems, promoting livelihoods of the most vulnerable communities, and maintaining the safety/health of World Vision and Vision Fund Mico-Finance Ethiopia's 2,500+ staff that live and work in over 100 waredas (districts) across the country.
World Vision's COVID-19 Response Team is closely working with Ethiopian Public Health Institution (EPHI), including assigning a full-time staff member in the institution. The Response team will continue seeking additional resources. 
ENDS.
Editor Notes:
For further information or to organise and interview please contact Kebede_GizachewAyalew@wvi.org Phone: +251966-270109
World Vision is a Christian humanitarian organisation dedicated to working with children, families, and their communities to reach their full potential by tackling the root causes of poverty and injustice. World Vision serves all people, regardless of religion, race, ethnicity, or gender.  For more information, please visit info_et@wvi.org or follow us on Twitter https://twitter.com/WorldVisionEth