Transforming the lives of 600 Girls, especially the most vulnerable through 'Dignity Campaign'
Tuesday, January 31, 2023
For Immediate Release
1 February ,2022 – World Vision Lesotho (WVL) and Vodacom Foundation have partnered to help a girl child claim back their dignity through provision of reusable sanitary pads to the most vulnerable girls in the hardest to reach places in Mokhotlong, Thaba-Tseka and Leribe.
According to the   UNESCO. Puberty education and menstrual hygiene management, 2014, Menstrual Health and Hygiene is essential to achieving the Sustainable Development Goals (SDGs). With a key focus on SDG 6.2 to 'achieve access to adequate and equitable sanitation and hygiene for all and end open defecation, paying special attention to the needs of women and girls and those in vulnerable situations.' The Dignity Campaign focuses on 'menstrual hygiene' for vulnerable girls in schools to ensure that girls experience fullness of life, continue to actively participate in school, and are empowered to participate in everyday life and adopting a lifestyle of effective hygiene practices.
World Vision Lesotho (WVL) through the European Union Funded (ECHO) Disaster Risk Reduction (DRR) Project is committed to strengthening national and community capacities towards addressing barriers to quality education for all children especially the girl child and aims to protect the most vulnerable families and children against the harsh shocks and crises they face in their everyday lives targeting 600 girls by the end of 2023.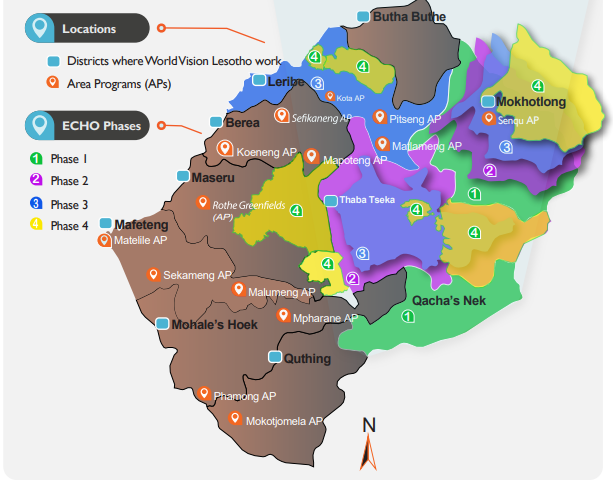 Today Vodacom Foundation donates Four Hundred and Twenty-Five (425) Reusable Sanitary pads for distribution to the most vulnerable girls in the three (3) World Vision Lesotho ECHO project Implementation sites.
The distribution will be led by the Water, Sanitation and Hygiene (WASH) Technical Programme through their contribution to improving child well-being by enabling families and communities to achieve sustainable access to adequate potable water, improved sanitation facilities, and good hygiene practices to help achieve Girl wellbeing in 1). Provision of access to affordable, appropriate, safe and sustainable menstrual products, 2). Knowledge and information sharing to help girls understand their menstrual cycle, can access self-care, receive the right, age appropriate and culturally sensitive information while advocating and creating awareness to help girls overcome menstruation related stigma, taboos, harmful practices and restrictions within society.
The 'Dignity Campaign' reusable sanitary pads distribution drive will take place from the 2nd – 3rd February 2023 across the three (3) districts.
Vodacom Foundation and World Vision Lesotho have been working together to improve the lives of the most vulnerable communities for the past 3 years since 2021 to deliver the very best results for the most vulnerable children in Lesotho. In 2021, we delivered Fifty Thousand (50) African Clean Energy stoves to help out of reach families with no access to electricity, in 2022, we collaborated to raise the voices Journalist in Lesotho towards advocating for child protection in developing stories to address Trafficking in Persons | Ending Child Marriage | Sexual Exploitation & Abuse.
World Vision's role in any community can only ever be temporary, and we recognize that it is through local partners that we will sustain and improve children's lives.  Therefore, we work to make our partnerships positive for every partner.  This means we have a commitment to seek mutual benefit; to respect and values others' contributions; to manage power dynamics carefully; to listen and be responsive, and to communicate openly and transparently.  In addition, wherever appropriate, we will support partners to grow their resilience and capacities so that together they can play their ongoing roles in maintaining and improving child well-being. 
For more information contact:
Lerato Brown, Communications and Marketing Manager, lerato_brown@wvi.org +266 58911020
 World Vision is a Christian humanitarian organisation dedicated to working with children, families and their communities to reach their full potential by tackling the root causes of poverty and injustice. World Vision serves all people, regardless of religion, race, ethnicity or gender.  For more information, please visit www.wvi.org/lesotho or follow us on Twitter @WorldvisionLS | Facebook @WorldVisionLesotho