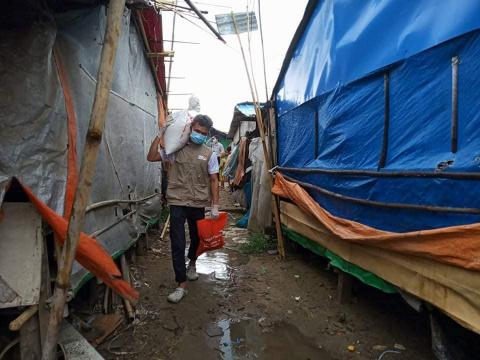 World Vision responds to COVID-19 crisis in Myanmar
Thursday, May 28, 2020
Yangon, May 28, 2020 – World Vision in Myanmar is responding to the COVID-19 crisis in the country. It aims to reach over 715,000 people, including 150,000 children in 50 townships including in conflict-affected areas in Myanmar.
The interventions include food security and nutrition, health and WASH, education and child protection. A follow-up recovery efforts will also focus on livelihoods support with additional budget allocations. World Vision will spend 3 million USD for the response.
The primary goal of the response is to limit the spread of COVID 19 and reduce its impact on vulnerable children and families. To reach this goal, World Vision has scaled up preventive measures in the communities. It is contributing to strengthening the capacity of government health systems, promoting holistic multisector support to those most impacted while collaborating and advocating to ensure vulnerable children are fully protected. 
Suresh Bartlett, National Director of World Vision Myanmar, said, "People in Myanmar, especially the poor, most vulnerable are facing significant difficulties during this time. These people live on day-to-day subsistence and hence staying at home without a livelihood is a huge struggle for the family's daily survival. Children too are particularly affected during this time with increasing incidences of violence and abuse in their homes and communities during this lockdown period. World Vision partners with the government in keeping the people of Myanmar safe and assisting their subsequent recovery." 
World Vision Myanmar has been supporting Ministry of Health and Sports, Ministry of Social Welfare, Relief and Resettlement, Township government departments, hospitals, quarantine facilities with 2,685 PPEs, 28,358 surgical and 2,795 KN95 masks, 80,800 gloves, 4,900 surgical gowns, 7,520 aprons, 35,000 soaps, 20,000 hand sanitizers, 2,500 boxes of chlorine/bleaching powder, hand washing stations, bed facilities, digital infrared thermometers among other essential items. 
Also, World Vision has been assisting the communities including IDPs in conflict-affected areas with 798 MT of food, 235,101 USD of cash, 139,048 water purification sachets, 71,000 hygiene kits, 3,000 food packs, 11 MT soaps, 4,944 water containers, 3,655 wooden ladle/sieve, 25,000 soaps among other items. 
Moreover, awareness messages were provided to the communities through 47,800 pamphlets, 1,200 posters, loudspeakers and social media. WVM will continue to collaborate with the government and other stakeholders to assist the vulnerable children and families in recovering from this pandemic, including addressing educational, psychosocial needs of children and livelihood support to families. 
About World Vision Myanmar 
World Vision Myanmar began its operations in Myanmar Since 1993. Today, World Vision presents in 13 out of 14 states and regions across Myanmar, operating in nearly 50 administrative townships. Every year, more than one million people benefit from World Vision Myanmar's work. 
For media interview contact:  
Naw Phoebe
Communications and External Engagement Director, World Vision Myanmar
Phone: (95 9) 509 2530
Email:naw_phoebe@wvi.org