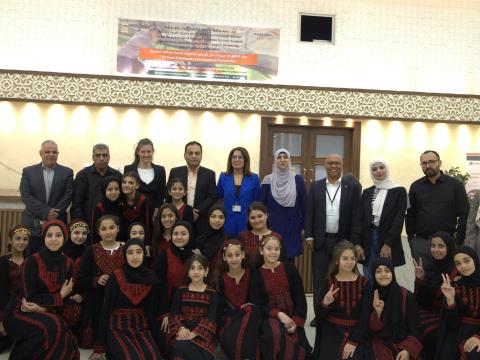 New Hope for Children: World Vision Launches Area Programme in Qalqilya
Thursday, September 22, 2022
World Vision Jerusalem – West Bank – Gaza celebrates the launch of new area programme in Qalqilya which will implement child-focused programmes for next ten years in thirteen vulnerable villages. The programmes will be implemented in partnership with Qalqilya Governorate, relevant ministries, local communities, and the community members, including children.
At the launch event on Tuesday 20th of September, 2022, the General Director in Qalqilya Directorate of Education Mr. Amin Awad expressed his gratitude and appreciation for World Vision to think of the needs of children in Qalqilya's area. He stated, ''Children deserve better life. Children living in these communities are facing gender discrimination, child labour, drop out from school and early child marriage. Most of the villages surrounded by Israeli's settlements, lack of health services, and lack of safe play areas.''
The National Director of World Vision JWG, Ms. Lauren Taylor said, "Over the past seventy years, World Vision was founded with a core belief, an understanding that God desires what World Vision refers to as - Fullness of Life for All Children. This means children receive education in safe schools and children are treated well in their homes and in their communities to grow up healthy, strong and resilient. It means there are laws, policies and systems to ensure their protection, and they have opportunities to learn the value of service with skills for life and the desire to take care of and better serve their communities. They know love, and experience hope and joy".
The new programme in Qalqilya, in partnership with the different parties, will bring out the best evidence practices to the programmes World Vision implements;
Nurturing healthy brains in children 0-3 to improve their fine motor, social and problem solving skills.

Energetic learning environments in kindergartens to ensure children develop the right cognizant skills and skills in literacy and numeracy.

Stronger skills and systems to protect children from violence.

Initiatives to build the resilience of children and their communities.
Minas Kilani, a former sponsored child from Jenin AP,  shared her experience with World Vision: ''I was sponsored for 12 years and became a successful lawyer.  World Vision built my personality, and helped the children in our community. World Vision is like a butterfly effect which last forever".
End
For further information or to organise an interview, please contact: info_jwg@wvi.org
Notes for editor

World Vision is a Christian humanitarian and development organization dedicated to working with children, families and their communities to reach their full potential by tackling the root causes of poverty and injustice.
World Vision serves all people, regardless of religion, race, ethnicity or gender.  For more information, please visit www.wvi.org    
#Hope4Qalylia
#WorldVision4Change
#MyCommunityMyHope