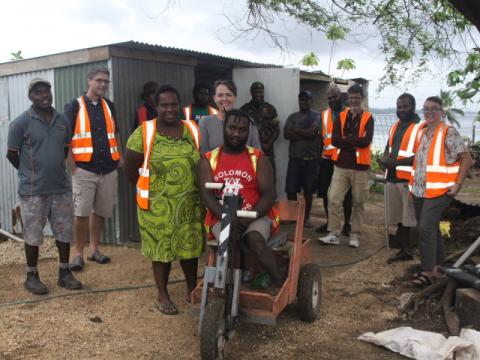 World Vision Water, Women and Disability report highlights importance of leaving no-one behind
Monday, May 11, 2020
A new report from World Vision in Vanuatu, and one of the first of its kind in the Pacific, highlights the importance of leaving no-one behind in accessing water and sanitation and participating in community life.
Launched on 6 May, 2020 in Luganville, Santo, the Water, Women, and Disability study report is part of World Vision Vanuatu's five year Laetem Dak Kona (light up the dark corners) project and the result of research and a large survey conducted in Vanuatu's Sanma and Torba provinces during March to July 2019.
Dr Alison Baker, Fund Manager for the Water for Women Fund, shared, "World Vision Vanuatu is to be commended for their dedication in putting inclusion at the forefront of water, sanitation and hygiene (WASH) policy and interventions in Vanuatu. 
"They committed to the difficult task of undertaking a women, water and disability survey that reached even the remotest of communities, including the most marginalised.  Their efforts are already influencing government policy, but even more importantly, the lives of those often left behind in accessing WASH services." 
The study, which reached 55,000 people, investigated access to, and experience of, water and sanitation, menstrual hygiene management and incontinence amongst people with disabilities, alongside those without disabilities, and in particular women, in Sanma and Torba provinces.
A community member with a disability, 19-year-old James from South Santo, talked about some of the challenges he has faced, "It has been so hard for me to shower and go to the toilet, and over the years it has also been harder for my ageing grandmother to lift me and care for me. I am so grateful for my new toilet and bathroom as now I don't have to rely on anyone to keep myself clean. Thank you to World Vision and everyone around the world who have made this possible for the first time in my life."
Cassy Harvey, the UN Country Coordination Specialist in Vanuatu shared, "The visit to South Santo gave us insight into how community members with disabilities were affected by the cyclone. Meeting James and hearing his story was eye opening, and a reminder of how important autonomy and dignity are for all people."
While Tropical Cyclone Harold has increased the challenge of accessing WASH facilities in affected areas, particularly for vulnerable groups, the COVID-19 transmission risk means having access to WASH facilities is more important than ever.
The Water, Women and Disability study was endorsed by the Ministry of Justice and Community Services, and was designed and delivered in consultation and collaboration with the Vanuatu National Statistics Office (VNSO), the London School of Tropical Hygiene and Vanuatu Disability Promotion and Advocacy Association and Vanuatu Society for People with Disability.
The study found that while 91% of households had access to an improved water supply, water availability was insufficient [not available every time needed in the last 3 months] for over half of all households (57%).
For people with disabilities, the impact of poor water access is profound. The study found that people with disabilities have less hygienic, convenient or dignified access to sanitation facilities at home compared with people without disabilities. A third of people with disabilities found it difficult to use the toilet without coming into contact with faeces or urine, while 10% of people with disabilities could not access water when they needed to.
The report also found that women faced harmful taboos while menstruating and reported requiring greater access to water during menstruation.
World Vision Vanuatu Country Director, Kendra Gates Derousseau, said, "Access to adequate water, sanitation and hygiene facilities is essential for everyone, but people with disabilities, those managing incontinence, and menstruating women, have extra needs and challenges. This report shines a light on those needs and outlines how they can be addressed."
The Water, Women, and Disability study and report was funded by the Australian Government's Water for Women Fund, along with additional funding from the Australian NGO Cooperation Program (ANCP) and generous donations from the Australian public to World Vision Australia.
Water, Women and Disability Study – Executive Summary https://www.wvi.org/publications/development-guide/vanuatu/water-women-and-disability-study-executive-summary
Water, Women and Disability Study – Report
https://www.wvi.org/publications/development-guide/vanuatu/water-women-and-disability-study-report