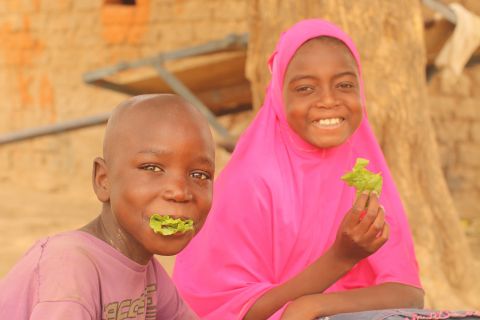 We want all children in Niger to enjoy good health. We are working towards this by:
Increasing the number of children who are protected from disease
Increasing the number of children who are well nourished
Ensuring children and their caregivers have access to essential health services
Limited access to quality health services coupled with a culture of not seeking medical attention puts many children in Niger at risk of suffering and even dying from preventable diseases, such as malaria, pneumonia and diarrhea. Additionally, poor nutritional practices and lack of access to food means that many children are malnourished.
We are working with communities, families and health posts to make sure children are fully vaccinated and receiving the appropriate and timely care they need when they fall ill. By equipping community leaders and parents with the knowledge and the tools to keep their children healthy and monitoring their growth/health, we are ensuring children receive appropriate preventive care and timely interventions so that no child is lost to preventable causes.
Yes! The number of children who receive proper treatment for diarrhea has increased significantly from just 5% in 2015 to 75% in 2017. As a result, no child under 5 died in our programme areas in 2017 as a result of diarrhea. In the last two years alone, we have seen an 8% increase (78 to 86%) in the number of children sleeping under bed nets -well above the national average of 24%.
1,227 community health workers were trained
330,532 were tested for malaria and of those that tested positive, 205,658 were treated
106,070 people were treated for diarrhea
41,032 children from six months to five years received Vitamin A supplements
14,301 children were identified as malnourished and referred for additional services
98.6% of malnourished children that received treatment, recovered
*Numbers from 2016 and 2017