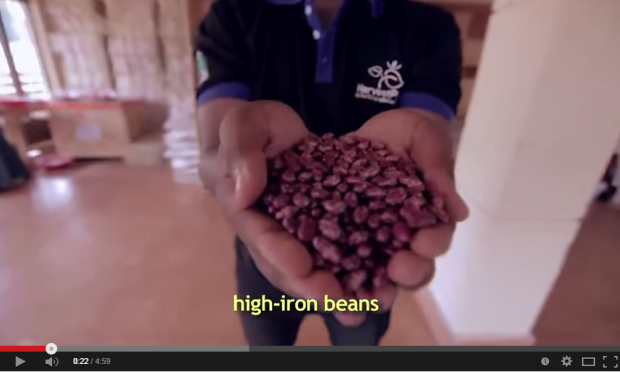 A catchy new music video on an unlikely topic was recently released by some of Rwanda's top Afro-pop, Rap and R&B musicians. The song, co-produced by a World Vision partner, HarvestPlus, and the Rwanda Agriculture Board, highlights the nutritional benefits of biofortified iron beans, which contain 15 per cent more iron and yield twice the harvest of ordinary beans. Almost 40 per cent of children in Rwanda do not have sufficient iron in their diets, which can lead to lowered resistance to disease, energy levels and even IQ and learning capacity.
Rwanda was the first country in Africa to officially launch biofortified iron beans developed through conventional breeding. HarvestPlus works with many partners, including World Vision, to promote iron beans in Rwanda. World Vision is implementing biofortified crops in more than 10 countries around the world, and a number of other countries are exploring the options of biofortification in their context.
Watch the video or download the song here:
English subtitles: http://bit.ly/EatHealthyBeans
Swahili version: http://bit.ly/EatHealthyBeansSwahili
Download song free (mp3) at http://bit.ly/EatHealthyBeansMP3
WV and HarvestPlus Partnership
World Vision and HarvestPlus signed an MoU at the World Economic Forum in Davos on January 23, 2014, making a commitment to work together to improve nutrition for hundreds of millions of people around the world who suffer from hidden hunger.
Hidden hunger is caused by a chronic lack of critical vitamins and minerals that puts children and adults at increased risk of stunting, anaemia, blindness, infectious diseases and even death. One in three people globally suffer from hidden hunger and women and children are especially vulnerable.
The partnership focuses on improving access to nutritious staple food crops— for home consumption and to sell in local markets—for vulnerable farming communities. Internally, this commitment also fosters closer collaboration between WV Agriculture and Food Security and Nutrition Interest Groups.
On November 6, 2014, a webinar on International NGOs and biofortification was hosted and jointly facilitated by Martha Newsome, Partnership Leader, Sustainable Health, World Vision International and Dr. Howarth Bouis, Director of HarvestPlus. A series of five webinars are being held in follow-up to the Second Global Conference on Biofortification titled "Getting Nutritious Foods to People," which was held in Kigali, Rwanda from March 31 to April 2, 2014. More than 300 leaders in agriculture, food, nutrition and health participated in this highly interactive global consultation (including 10 World Vision staff members from NO, RO, SO and GC). Together, participants identified the most pressing gaps and challenges in increasing access to more nutritious foods, especially for those suffering from micronutrient deficiencies, and proposed how policies, programs and markets could be used to make positive changes. Check out the proceedings and the conference report.
Interested in learning more?
- Learn more about how World Vision and Harvest Plus biofortification programmes are improving nutrition:
- Check out a new infographic: Nutritious Staple Food Crops: Who is Growing What? This infographic shows just how far nutritious staple food crops have spread in only a few years. It includes countries where governments have released new varieties of nutrient-rich crops and those where new crops are bring field tested and evaluated for eventual release. Many of these food staples are nutritious in their own right but now have an added dose of vitamins or minerals. When y ou throw in high yield, combined with pest resistance or climate-smart traits, it's easy to see why more than one million farmers around the world are already growing these crops.
Article by Angeline Munzara and Loria Kulathungam