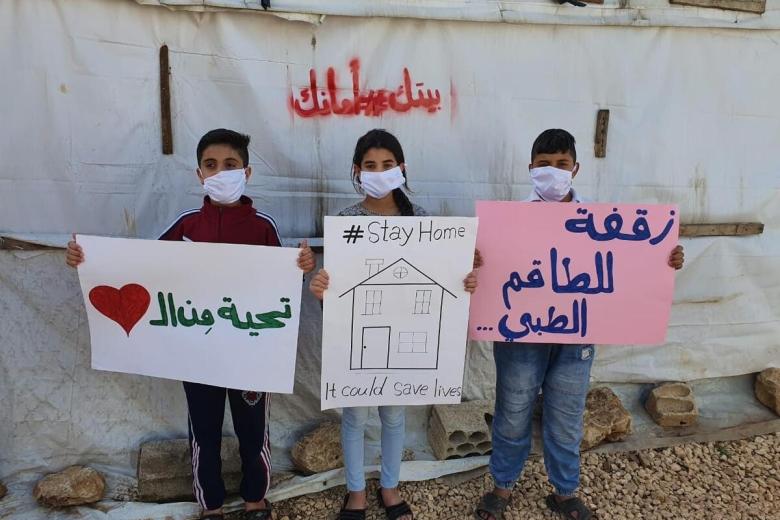 Changing the COVID-19 world for children
By Dana Buzducea, Partnership Leader for Advocacy and External Engagement
In Romania, Alexandru, aged 13, told us, "Coronavirus is affecting us very seriously." "I do not like this situation," said 16-year-old Anita in the Democratic Republic of Congo. "...Despite the fact that isolation will help protect us from the virus, this will bring starvation that can still kill us too." And in Peru, Natalia, 16, put it simply: "The situation is very bad."
It was obvious to us from the beginning that this pandemic would become a children's crisis. While the infection rates and worst effects of the virus itself seem to largely spare young children, early lockdowns and school closures all over the world directly affect them. From the first moment I heard about lockdowns, children being trapped in abusive environments have weighed heavily on my heart.
Our expert analysis keeps finding new and disturbing evidence to which we need decision-makers to pay attention. In our Aftershocks report series, we found the secondary effects of the pandemic could put 30 million children at risk of disease and death, warned that up to 85 million more children could be affected by violence in the coming months as vital isolation measures force them to stay home, and that the impact of plummeting incomes is forcing millions of children to go hungry, beg, work, or be forced into child marriage.
Our consultations with children, captured in Children's voices in the time of COVID-19, revealed that three-quarters of children and young people felt isolated and lonely because of COVID-19. We knew the problems and we had to find ways to be part of the solutions.
Around the world, while our teams were springing into action to respond to the frontline needs of millions of people, we began our coordinated efforts to ensure governments, donors, humanitarian partners, and faith and local leaders – from local right through to global levels – kept vulnerable children's needs in mind in every decision they made.
Driven by our best policy thinking, we asked that prevention and response work prioritise the most vulnerable children. We pleaded to strengthen child protection services amid lockdowns. We made the case for essential access, health service delivery, and for supporting frontline and community health workers. We helped to frame or amend policies and plans that ensure humanitarian assistance and protection continue for those who were in need before the pandemic hit.
We worked with media to get the right messages out, raising awareness of the need to protect children. We engaged doctors, high-level government officials, and celebrities to educate children on different issues that negatively impact their lives during lockdown. From Haiti to Burundi, we contributed to 150 policies to address operational challenges. We advocated for standard operating procedures on food and nutrition for people held in quarantine, for advance cash transfers for especially vulnerable families, for more effective humanitarian response for people on the move and to ensure that the most vulnerable children and families are reached by life-saving assistance.
A growing body of evidence shows us that when given a chance, children and young people actively embrace opportunities to act and to advocate for social change. When empowered, children are not helpless victims – in fact, they often become the hidden heroes in a crisis. They have given us so many reasons to hope.
William, age 14, had to flee his home because of the conflict in South Sudan and is now living in a refugee camp in Uganda. Keeping a safe distance from other people and wearing a mask and gloves, he goes door to door, sharing with other children how they can stay safe. Salimata, 15 and living in Mali, has begun producing videos teaching people about good hygiene practices.
Partnering with faith leaders, organisations, the United Nations, businesses, donors and governments to go further, faster, together, William and Salimata are just two of the millions of children around the world whose futures we are committed to making bright.
Learn more about how we are helping limit the spread of COVID-19 and protect those affected and the impact our programmes have had in the first 100 days. 
Subscribe to see more content like this