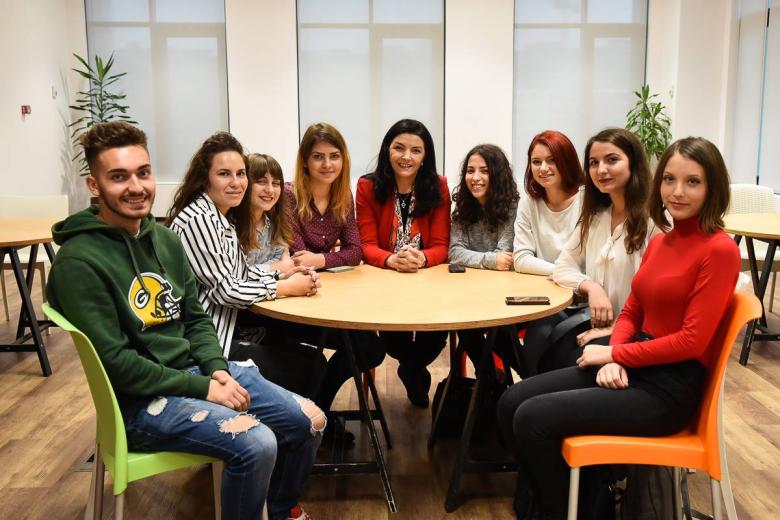 The child who has inspired me for 24 years
7 June 2022
In the summer of 1998, I boarded my first flight ever to London. I was the chaperone of *Luca (not pictured), a 10-year-old HIV-positive boy who had been abandoned in a maternity ward. He was one of the children I was working with at an infectious diseases hospital for children in Romania. My husband and I were both social workers for non-governmental organizations that offered different services to children infected with HIV/AIDS.   
At the time, Romania had more than 50% of all pediatric AIDS cases in Europe. In the late 1980s, unsterilized needles were reused to administer antibiotic treatment to multiple children in impoverished communist hospitals. Some of these children came from orphanages, where they received micro-transfusions with HIV-infected blood to help boost their low nutrition levels. 
Luca was a child that my husband and I both grew to love. While my husband served as his counsellor, I was his social worker. After all testing and treatment options in Romania had been exhausted, an inter-institutional partnership between the Romanian and a UK-based hospital opened the door for Luca to be tested and receive a new treatment in the UK. 
This should have been a hopeful trip, but back then, HIV-positive children faced a lot of discrimination. During the three-hour trip to London with Luca, we were treated with so much fear and hostility from other passengers that I was afraid for Luca's safety. But somehow God protected us from that. It was obvious to the passengers and the crew that Luca was sick, as he was thin and pale and had zona zoster on many parts of his face and body. I believe everyone knew he had AIDS.  
When we returned to Romania, Luca was still very sick. In a counselling session, my husband focused Luca's attention on his desires and hope instead of his feelings of loss and physical pain. Then, something amazing began to happen. Luca asked my husband to quickly take a paper and pen and write down his 20 wishes, including a horse with full equipment and detailed cowboy gear, a grown-up watch, a phone, and a policemen uniform.  
Luca was signaling his will to live by sharing his wishes with us. He wanted to stay strong—and that's exactly what he did, to our delight.  
Eight years later, long after I had moved on from that particular work, I received a call from an unknown number. To my surprise, it was Luca! I was so shocked to hear his voice that I was speechless.  
Luca simply wanted to thank me for believing in him. During our time together, I fought for his right to go to school and we won. He called to tell me he just turned 18, and now has a chance to become an independent adult with a professional path forward.   
To this day, Luca remains an inspiration for my entire career. I believe that when children can be heard and participate in decisions that affect their lives, even in dramatic situations like the COVID pandemic, children are not merely victims but strong actors in community transformation. Over the years, I have seen children change their destinies by confronting cultural practices like early marriage, for example.   
We live in a time of rapid change. The aftershocks of COVID-19, climate change, and conflicts in so many parts of the world are leading to even more children experiencing violence, hunger, or the denial of their rights, especially in fragile and humanitarian contexts. The impact of this combination of factors on children's lives is far deeper and more worrying than we could have imagined a few years ago. 
At World Vision, our It takes a world to end violence against children campaign has empowered children and young people globally to confront the attitudes, beliefs, and behaviours that condone violence against children. In 2021, we helped them raise their voices and be heard on a global stage through the use of digital platforms such as podcasts and virtual conferences.  
The world need not imagine what children need. If we are serious about children taking first place on the social and political agenda, we must ask them what they want their future to look like. If we create the space for children to be part of the solutions to the problems we face, we will save many lives.  
*Name changed to protect the child's identity.  
Read World Vision's 2021 Annual Campaign Progress Report to learn more. The campaign has impacted the lives of 268 million children since 2017.
Subscribe to see more content like this