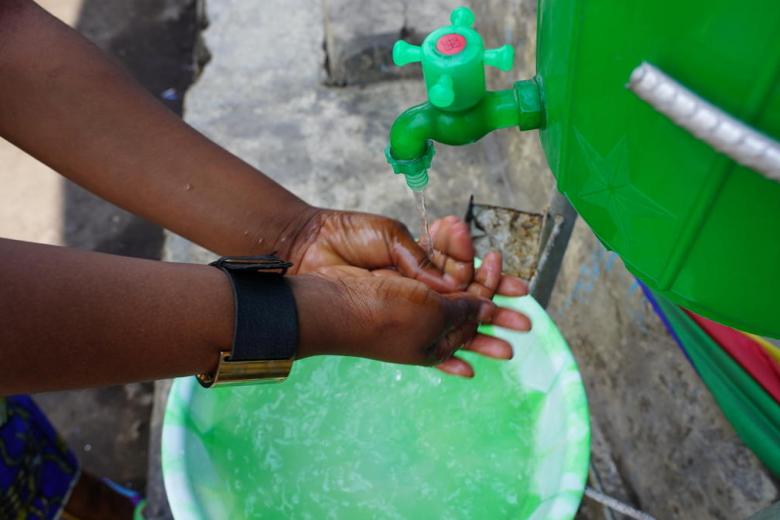 #cleanhandsforall takes all of us
Recently, I was in rural Zambia visiting some of World Vision's Water, Sanitation and Hygiene (WASH) programmes. Sitting under a tree with about 15 women, I asked them about their daily routines and handwashing behaviours—in particular what made it difficult to wash their hands.  Many said that they would just forget in the busyness of the day, or that the location of their only handwashing facility was by the toilet—too far away to use unless they happened to be near the house.
Toward the end of our discussion, they asked me what makes it easy for me to wash my hands. I was struck in that moment with a very simple, profound – and, yes, obvious -- realisation.
It is convenient. I have exactly what I need to wash my hands, everywhere I need to wash my hands.
In my bathrooms at home, my kitchen, public restrooms, hospital rooms, doctor offices, primary school classrooms -- there is always a sink with running water and soap. It's about as easy as it could be.
Yet even with all this convenience and relative ease of access, we do not have even close to 100 per cent compliance with handwashing with soap at the proper times. One survey from 2015 cited that, in the US, though more than 90 per cent of Americans believe it is important to wash their hands after using a public restroom, only 66 per cent say they always wash their hands after using a public restroom. (And we know that we all tend to be generous toward ourselves when we self-report our own behaviour – so the 66 per cent might be higher than reality.)
The theme of Global Handwashing Day 2019 is 'Clean Hands for All', and focuses on inclusivity and addressing disparities in handwashing promotion. Given that disparities exist in a variety of ways – physical and mental limitations; geographic barriers, societal marginalisation, age, setting (i.e. institutions such as schools and healthcare facilities), and more – those of us working to improve handwashing have a lot to think about.
As I consider this theme of inclusivity, three key issues emerge in my mind:
Convenience matters: Ease is important. I wonder how much we really consider convenience in our handwashing interventions. When working with people to design and promote handwashing with soap, we need to understand daily routines, limitations, and interests and desires. How do we ensure the behaviour of handwashing is as easy as possible to practice and make a habit?
Empathy is essential: We need to walk the path of others. As my time with the women in Zambia showed, empathetic listening is a vital first step in better understanding other people's experiences of water, sanitation and hygiene. Why not go further and spend extended time with them in their contexts to discover first-hand where the handwashing gaps are. What revelations might be uncovered after spending quality time with children, or healthcare workers, or those with physical or visual impairments?
Systems thinking is critical: We need to understand the links in the handwashing chain. We could try to tackle handwashing one station and one bar of soap at a time, but a systems approach will help us to address handwashing at scale. Handwashing access is pervasive in the United States and other countries because there are policies and standards in place that require that provision. What policies need to be in place to ensure access for all? What supply chains and markets need to be developed and reinforced to provide necessary materials? What innovations and strategies need to be implemented to ensure fit-for-purpose solutions? What 'what if?' questions do we need to continue asking ourselves, so we are ready to adapt solutions as needs change?
Ultimately, 'clean hands for all' is not a problem for one person, group or organisation to solve. There are too many challenges for there to be a handwashing 'saviour' who solves it for everyone. Only a community of advocates, innovators, participants and problem-solvers—that includes the most marginalised—can provide convenient, easy access to handwashing.
Learn more about World Vision's WASH hygiene work here.
Subscribe to see more content like this