Why Hygiene?
Hygiene is essential for preventing the spread of disease and ensuring that children and their families can thrive. Without good hygiene, children suffer from bouts of illness that can impact their health, growth, education and productivity for the long term. A lack of hygiene services in healthcare facilities puts patients at risk of infections, including birthing women and their newborns, and poor hygiene at school means students are repeatedly exposed to germs that can make them sick and keep them home from school.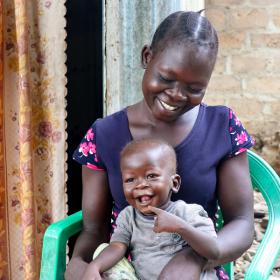 Our Approach
At World Vision we believe every child should have access to the resources they need to keep themselves and their communities healthy.
In our 2021-2025 business plan we have increased our focus on handwashing including an emphasis on effective behaviour change programming, more durable handwashing products, and access to water close to home, at school and in healthcare facilities.
We are also committed to ensuring that women and girls have the menstrual hygiene products, facilities, knowledge, and supportive environment they need to manage their menstruation in safety and privacy. Read more about our menstrual health and hygiene programming here.
Global Facts:
2 billion people do not have a handwashing facility with soap and water at home
43% of schools globally have no handwashing facilities with soap and water
42% of healthcare facilities globally have no hand hygiene at points of care
Evidence suggests handwashing at key times can prevent 30% of diarrhoea episodes and 17% of acute respiratory infections, which are the biggest infectious killers of children under age five
Handwashing with soap is critical for preventing respiratory infections and disease outbreaks and pandemics such as Ebola, cholera and COVID-19
1 million deaths each year are associated with unclean births, and infections account for 26% of all neonatal deaths 
Source: WHO/UNICEF Joint Monitoring Programme for Water Supply, Sanitation and Hygiene (JMP)