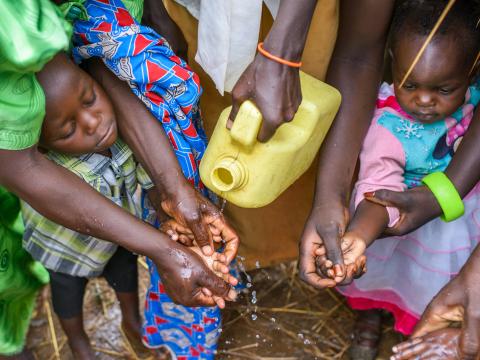 Hygiene
Why hygiene?
Hygiene is a critical component to effective, sustainable WASH. If water is clean at the source and toilets exist in the community, their effectiveness only goes so far if community members do not practice effective hygiene behaviours to ensure that water stays clean until it is consumed, that all human faeces are hygienically disposed, and that personal hygiene is practiced to safeguard individual and community health. 
Learn about some of our approaches to hygiene promotion and behaviour change.
World Vision actively engages with community members to promote good hygiene behaviours. Together with the community, we work to educate people on good hygiene and promote long lasting healthy habits. One of the key approaches we use is called Designing for Behaviour Change, to identify what either prevents or enables positive hygiene behaviours, and then designing activities to address those issues. Hygiene encompasses a variety of areas, from handwashing and keeping toilets clean at home, school and health care facilities; to menstrual hygiene management – a key issue that particularly affects the ability of girls to stay in school. 
Read more about how a community gets clean water, sanitation and hygiene.

Facts