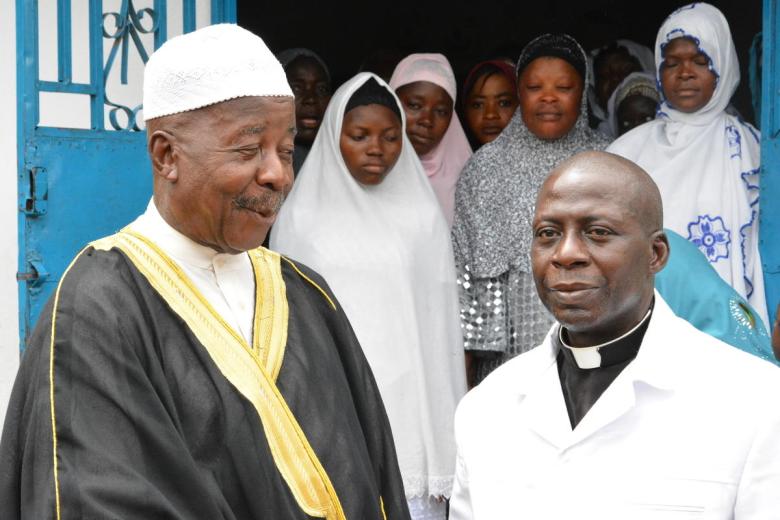 Five ways faith leaders are driving transformational change for children
By Esther Lehmann-Sow, Partnership Leader – Faith and Development
In the movies, a character's life will flash before their eyes like an old film reel right before death. This happened to me the other day too – but I wasn't dying.
In a moment of calm reflection, one of my life reels played back the times I've witnessed the power faith leaders have to make amazing change a reality. Things like addressing harmful burial practices during Ebola, helping parents reconsider practices that negatively affect children, promoting new family planning methods, advocating for gender equality for boys and girls and to respond with love and compassion to people impacted by HIV.
Adding to these more recently, is the academic evidence that builds a robust case for the unique and essential role that faith and faith actors play in ensuring better outcomes for children. And we see this getting growing recognition as many UN agencies establish faith-based mechanisms, working groups and tasks forces for engagement.
So what has all this experience, all these episodes, taught us so far? Here are five of the big ones:
1) Local faith leaders have a unique and essential role to play in promoting child well-being.
In my own Christian faith tradition, I have seen how Church leaders were critical partners in addressing child vulnerability. But this is not just the case with Christianity. In our work across the world, leaders from many different faith communities are paving the way in helping to pass new laws that protect children from harm, preventing child marriages, and establishing care groups to look after the most vulnerable. Their influence is also noted in a growing body of evidence, including research we are undertaking as well.
Faith leaders have been critical in promoting health messages to communities, especially in remote areas where mass communication fails to reach everyone. Since the COVID pandemic began, World Vision has partnered with more than 150,000 faith leaders to share health messages. In just one project in two provinces in eastern Democratic Republic of Congo, 800 faith leaders were able to ensure more than 175,000 people received health messages.  They did door-to-door outreach, shared information in markets and talked about COVID prevention in religious services.  Because faith leaders are the most trusted leaders in many communities—particularly in sub-Saharan Africa—these messages drive change in behaviour.
2) Engaging faith leaders and faith communities is a powerful driver of social norms change.
Often, community members look to their faith leaders to respect, uphold, or enforce social norms. After World Vision hosted faith leader and faith community workshops in Kenya as part of a Channels of Hope  programme aiming to improve maternal, newborn and child health, modern contraceptive use was 24% higher in the intervention site (77.5%) than in the comparison sites (53.7%).We see this work can drive dramatic impact on the health of mothers and young children.
3) Successful faith/community engagement leads to social cohesion, peace and addressing xenophobia.
In Mombasa, Kenya, World Vision brought Christian and Muslim leaders together for Do No Harm for Faith Leaders workshops that addressed factors that connect or divide communities. When you promote the exploration of key connectors and dividers as a tool for personal transformation, I have seen it catalyse interfaith collaboration and increase reconciliation and peace-building. And this is backed up by research, which shows that faith leaders who participate in these workshops have increased commitment to interfaith collaboration, and increased sensitivity when responding as agents of reconciliation in their communities.
4) If you don't address spiritual root causes of child vulnerability, you will get nowhere
In Burundi, a well-designed early childhood programme failed to attract families due to a spiritual belief that putting young children directly on the ground could lead to negative spiritual consequences. World Vision partnered with key influencers – not people with millions of followers on Instagram, but grandmothers and trusted faith leaders – who served as early adopters by sending children to the programme which, in time, led to a dramatic increase in enrolment, helping to prepare a generation of children for school.
5) Spiritual support is vital for building resilience and positive coping strategies
Through our Celebrating Families programming, which evidence shows works, World Vision has supported the spiritual nurture of children in more than 40 countries, helping them to gain the knowledge and skills necessary to develop their own spirituality. This doesn't mean teaching them to recite passages from the Bible. It means, as in the case of Tanzania, Myanmar and Afghanistan, understanding faith teachings to create an enabling environment for child participation, helping children to thrive.[1]
The COVID-19 pandemic has changed all of our life reels, and when we look back on this time, we'll remember how much it exacerbated the challenges we face and put us at risk of not achieving the global Sustainable Development Goals. I hope and pray that we also see an increase in the essential, transformational role and recognition of the work that faith and faith actors are playing. Inspired by our Christian faith, World Vision is committed to work with faith actors to see that the world's most vulnerable children experience life in its fullness. 
Will we all do our part to engage meaningfully and effectively to leave no child behind?
[1] Coventry University (2019), Understanding 'Celebrating Families' contribution to family well-being.  Key findings from Afghanistan, Myanmar and Tanzania Case studies. (September 2019) Available WV Impact Portal.
Subscribe to see more content like this