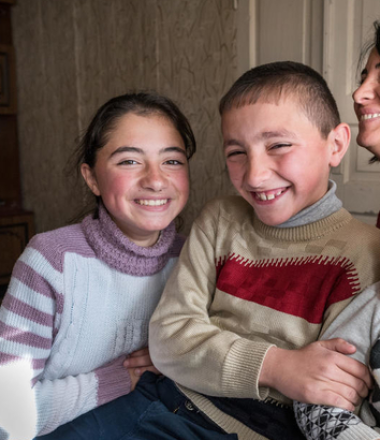 Faith and Development
Celebrating Families
Celebrating Families seeks to ensure that families, especially the most vulnerable ones, enjoy positive and loving relationships and are able to have hope and vision for the future. The programme equips parents and caregivers, church and faith leaders, faith-based organisations, local agencies, communities, congregations, and World Vision staff with knowledge and skills to create a safe and nurturing environment for children's spiritual nurture in the family context. The programme aims to support families as places that allow children to experience the love of God by addressing the beliefs, convictions and cultures that contribute to harmful attitudes, norms, values and practices in raising children.
Child well-being outcomes are strongly influenced by the environment that surrounds children including family relationships. At present, however, families are facing many challenges and often fail to create the safe, loving and caring environment that is vital for children's holistic development.
Celebrating Families teaches parents, caregivers and faith leaders about their role in creating a safe and loving environment to support the spiritual nurture of children and equips them in how to translate these principles into practical actions that can be applied within the family. Through this process, parents, caregivers and faith leaders learn to be able to identify and address family issues that hinder children's spiritual and holistic development and support practices that create space for children to experience God's love, leading to improved family relationships and a decrease in harmful attitudes and practices surrounding children's violence and neglect within the family. By supporting and partnering with caregivers and faith groups in the community, a protective and loving environment for children can be established, affecting how children think about God and how they can achieve their full potential.
60,000 parents gain skills to nurture children physically, emotionally, and spiritually annually.
The Celebrating Families Process 
The Celebrating Families programme includes an interactive workshop in which parents and caregivers learn about how they can help support their children's spiritual development across life stages. This leads to increased participation of parents in the spiritual nurture of children and family supported activities helping to increase children's awareness of God's love.
Following this workshop, faith leaders, local organisations and community leaders support the establishment of parent and caregiver support groups, where family issues and possible solutions are identified, and the development of learning events for parents and children. This parental and community engagement leads to an increase in parents' understanding of positive discipline and the reduction of harmful discipline practices.