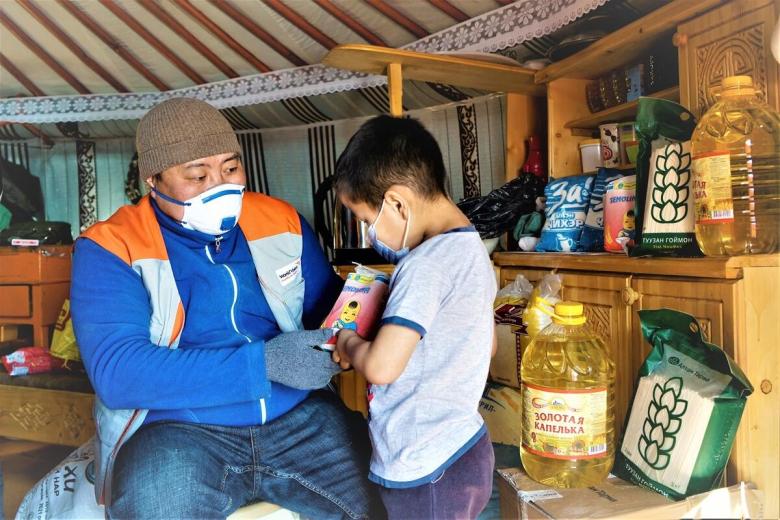 How COVID-19 affects children – and why we're so worried
By Isabel Gomes, World Vision's Global Director, Humanitarian Operations
It sounds like a cliché to say "I have never seen anything like this pandemic." But it is true. I have worked in places torn apart by conflict, led teams responding to famines, met women and children whose stories and pain I will never forget. But I have never experienced anything like this crisis, one that poses such a major threat to millions of the most world's most vulnerable children.
COVID-19 is rightly making us adapt how we work as humanitarians, almost daily. This is hardly surprising given the speed that hundreds of countries and millions of people have been infected, leaving a destructive trail and growing number of lives lost.  Every day I see my teams facing – and overcoming – obstacles many of them haven't seen before, even in some of the most extreme emergencies. How do you alleviate suffering and maintain and protect those in need when limited by a restriction on movement for aid workers? What does this additional obstacle to humanitarian assistance mean for existing fragile health systems that are already overwhelmed?
Humanitarian programming has never been more challenging, and the need to find alternative ways to undertake it becomes increasingly urgent. The UN Secretary-General's call for global ceasefire last month resonated around the world, with endorsements from 114 governments as well as a multitude of regional organisations, religious leaders and more than 200 civil society groups. Among these were 16 armed groups who have responded positively to the Antonio Guterres' appeal for a global cease-fire. Although many challenges still lie ahead, this endorsement opens new opportunities to deliver life-saving aid and help peace emerge in countries where it is so desperately needed.  
Mr Guterres' appeal to countries to designate humanitarian workers as 'essential' also needs to be globally endorsed.  This would fast-track the passage of health and aid workers in-country and at borders; would ensure they have access to vital protective gear; and would promote respect for them and their work as they continue to deliver life-saving assistance.  
As always, the most vulnerable – children – are hit hardest.
For the first time in living memory traditional donor countries and recipient countries are both affected by the same crisis. But not equally. As we watch some of the world's best health systems struggle under the weight of this virus, we fear what will happen when the weaker health systems in so many developing or conflict-affected countries are hit. Our worst nightmare is what happens when this virus takes hold among the most fragile, vulnerable communities—particularly children and families who as refugees, displaced, or urban poor are already suffering unimaginable challenges within their existing humanitarian crises.
Worryingly, and incorrectly, people are suggesting COVID-19 does not threaten children as much as it does older people. This is a disease that is affecting and will affect children. While relatively few children have died to date, the truth is, that, as in the case of the AIDS pandemic and the 2014-2016 West Africa Ebola crisis, losing care givers, plus interruptions of access to regular primary healthcare, could prove more fatal than the diseases themselves.
Our recent COVID-19 Aftershocks report warned that 30 million children's lives are in danger from secondary health impacts of this virus. We extrapolated the secondary impacts of the 2014-2016 Ebola outbreak in Liberia, Sierra Leone and Guinea on children in the 24 most fragile countries covered by the UN's COVID-19 humanitarian appeal. Sadly, the analysis shows that secondary impacts will threaten many more children's lives than COVID-19 itself. The lack of access to overburdened health systems and to proper nutrition means more than 26 million children could be at greater risk of being exposed to other deadly diseases for lack of immunisation and over five million children could suffer from increasing malnutrition (including severe wasting), an increase of almost 40% from current levels. As the UN's Secretary General stated on the recent release of the UN's Report on the impacts of COVID-19 on Children, "what started as a public health emergency has snowballed into a formidable test for the global promise to leave no one behind."
Taking action to protect the most vulnerable
The response to the pandemic will leave millions of boys and girls poorer, hungrier, sicker, less educated , exposed to more violence and abuse, and psychosocially scarred. There are, however, things the world can do now to help mitigate this, including the adoption of policy and funding response plans that address these impacts of the pandemic on children and families.
World Vision's COVID-19 response is the largest emergency response we have ever undertaken - a $350m global push to support 72 million of the most vulnerable people – 36 million of which are children - demanding work from every part of our organisation in every country we operate.  
We are promoting preventative measures, are supporting health systems and workers, and providing holistic, multi-sector support to children with increased vulnerability as a result of COVID-19. In line with our commitments at the World Humanitarian Summit, we are adopting crisis modifiers and funding flexibility to shift our resources to rapidly respond, with the principle of Do No Harm at its heart.
Our response plan is ambitious, but we know we can do it in partnership with local partners, faith leaders, communities, funders, and more. World Vision's global footprint covers more than 70 nations and we can activate 37,000 staff located everywhere from global capitals to thousands of grassroots communities.  We can mobilise and support huge faith (400,000 leaders) and community health (220,000 workers) networks because we have been developing these relationships for decades. And our support base includes millions of child sponsors, UN and government partners, volunteers and grassroots level partners who are committed to improving the lives of the world's most vulnerable children.
Children need our help in this crisis as much, if not more, than previous emergencies. Not just in the short and medium term, but well into their new normal future post-COVID-19. 
Subscribe to see more content like this