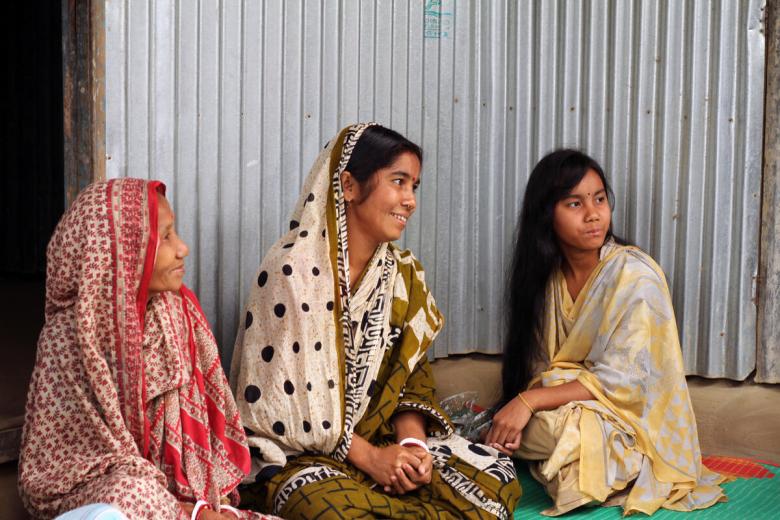 I bring glad tidings – and wow, does it feel good to say that
.
By Marcus Frost
It's official. COVID-19 has not taken away our humanity. We already knew this in World Vision, after a year of seeing how committed our supporters are to the world's most vulnerable children in their hours of need. But I am really pleased to be able to say, we have the numbers to prove it – and to bring good news at a time of year when I know we all sorely need it.
In a survey of more than 12,000 people around the world, over three quarters said it's important to focus on people in need of help this Christmas.  
Of course, amid this good news and all the reasons to have hope for next year, there are families struggling through the worst Christmas of their lives. Whether that's because they've tragically lost a loved one this year, or because they are feeling the stomach-churning angst as a result of losing their jobs and livelihoods.
I know that feeling. It's deep in me, the impact on a person and a family when your livelihood is hit. I know what it is to be unemployed, and the fear that comes with being unable to provide for your family. To feel that you have so much to contribute, but no way to do so – there's a loss of purpose that I think is hard to fathom if you haven't been there. I believe we were created by God to work, as well as rest, play and pray of course! "For we are God's handiwork, created in Christ Jesus to do good works, which God prepared in advance for us to do." (Ephesians 2:10).
The families going through this around the world have been on my mind and in my prayers from the beginning of this pandemic. From a mother in Brazil, to a father in the UK, to parents in Bangladesh.
I am a naturally positive person. There is so much to be hopeful about in our world, and God has blessed us all in so many ways. But I felt almost crushed by the worry of being out of work. It's not a natural condition for me to be unable to find the good in every situation and even now, I find it hard to think and write about.
Of course, I was extremely lucky as I had reserves I can draw on in those times. Financial reserves, yes, but more than that, reserves of love and support from my family, and of motivation and determination, perhaps from my upbringing where I was encouraged, supported, and had access to education, and healthcare.
So how do you navigate through the uncertainty and feelings of hopelessness that can come with the loss of employment and livelihood, when you have lived most of your life in grinding poverty, or you were raised amid violence, in conflict, with no one telling you of your worth? I can't imagine what it must take for a father who can no longer sell his crops at the local market, or a mother unable to drive a local taxi, to make the decision to sell their 14-year-old daughter into marriage, or send their 10-year-old son out to beg, so you can continue to feed the rest of the family because you no longer can. In July, our Out of Time report exposed just how many millions of families were being forced to make these impossible decisions.
"I hardly remember how it feels like to have a full meal," 12-year-old Kabita told my colleagues in Bangladesh. Kabita's family joined our Ultra-Poor Graduation programme in 2017 and the family was given a rickshaw to help provide an income. The difference it made then was immediate, positive and substantial. In an instant, in March this year, when lockdown meant carrying passengers on rickshaws was prohibited, their lives changed again. Overnight Kabita's father Joglul lost their sole source of income, and within one week had used the savings they'd been able to put away. Kabita's parents were going without food so the children could eat, but there wasn't enough; they weren't coping with the stress, there was violence at home and Kabita struggled to study because she was so hungry. With her dreams of being a doctor fading, World Vision was able to step in and provide emergency distributions and positive parenting support and counselling.
The changes in lockdowns mean families like Kabita's may be able to rebuild their lives, having survived thanks to the support organisations like ours are able to provide. But not everyone is as lucky to be able to return to work.
When you have lost everything and are struggling to survive, and look beyond today, it can be so hard to lift your eyes up and see further than your immediate needs. It's why the news that the charitable spirit is so alive and widespread is a reason to be hopeful.
There is no shortage of reasons why we should, wherever we can, give our time, talents and resources to helping people in need this Christmas, especially the world's most vulnerable children. The devastating impact of the loss of livelihoods, especially in this season of goodwill, is for me one of the greatest.
Marcus Frost is World Vision's Partnership Leader for Marketing and Communications. Follow Marcus on Twitter @MarcusFrost
Subscribe to see more content like this