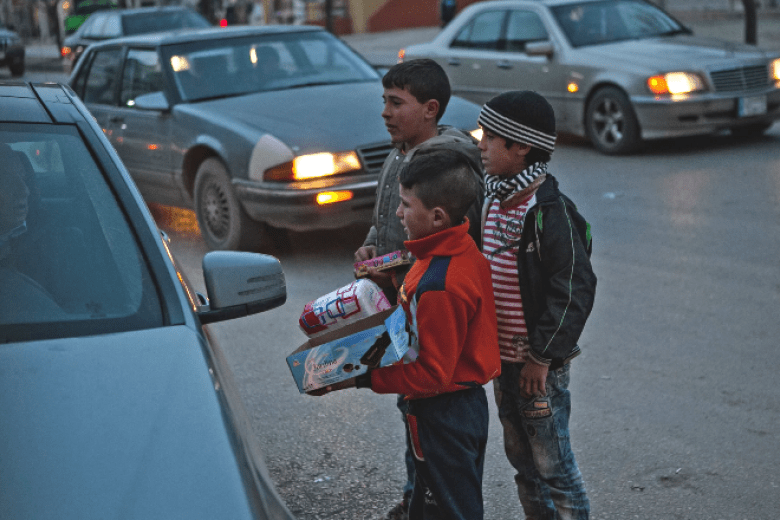 Mapping the many-headed monster threatening the world's children
Urban programming expert Aline Rahbany spotlights a new approach to mapping and research to comprehensively measure children's exposure to vulnerability worldwide. 
Imagine you are a child, perhaps a 5- or 6-year-old, in a country where extended periods of drought means no food or income for your family. So you are all forced to flee and to cross dangerous mountains on foot, or unforgiving seas in an unsafe dingy. Imagine losing a sibling or parent on the journey that spits you out in a city that you think promises better opportunities for work and education, but instead offers you gang-controlled overcrowded slums and no basic services. In your new urban 'home' you and your family are treated like outsiders and discriminated against. Your caregivers struggle to find work and to put any food on the table—let alone nutritious food. The everyday stress of all this translates into negligence and, at times, violent behaviour.
It isn't the urban environment that created this increased vulnerability, as it is so often assumed. It is the compounding factors that have collectively led to a situation that is dangerous for children. It is climate change. It is fragility. It is unplanned rapid urbanisation. It is gender inequality and social exclusion. It is what we are calling the quadruple threat. There's a kaleidoscope of dangers that children face around the world—increasingly not just in remote villages and active warzones, but urban centres too. But, as yet, no one has taken a multidimensional view of this hydra preying on children, increasing their exposure to vulnerability.
Until now. In September 2022, World Vision International and the Institute of Economics and Peace began an innovative project to track, compare and visualize a variety of child vulnerability measures across the world. The mapping forms part of World Vision's ongoing effort to enhance the scope, targeting and impact of its humanitarian, development, advocacy and peace-building programming, particularly in relation to the quadruple threat of urban fragility, climate change, gender inequality and social exclusion.  
To date, we have consolidated globally comparable national and subnational datasets and visualised them through a series of maps. Indicators include food insecurity, under five mortality, girls out of school, incidents of armed violence and terrorism, children living in slum housing and more.  
The result of the initial phase of mapping and the methodology used to create the maps can be seen on our website. Much work remains to be done and there is much more to be unpacked, including an analysis of correlations and trends and the inclusion of more data sets at a more granular level where available. 
Up until now there had been no index or analysis with global coverage focused on creating a multidimensional view of child vulnerability. This is why we believe this ongoing work will be vitally important to the humanitarian and development community, and will have a deep impact on the way multidimensional child vulnerability is understood and addressed over time. We are very much hoping, with sufficient financial support, to be able to extend the mapping over the coming years.   
This mapping will, of course, also ultimately help people like Fatimah and Farah, two Syrian refugees living in tents and derelict buildings in Lebanon, mostly forgotten by the world; single mums trying to raise their children in an urban camp. Violence, mental health problems, a lack of piped water or a sewer, 400% increases in food prices and only intermittent electricity threaten the lives and futures of them and their children.   
The mapping and research mean that we and other aid agencies will better understand the compound threats to families like these and so will be better able to advocate for an end to the causes, to collaborate on the solutions, and to ultimately slay the many-headed monster with its insatiable appetite for the vulnerable and marginalised. 
Learn more about the Quadruple Threat mapping and research here and about World Vision's urban programming here.   
Aline Rahbany is World Vision International's Technical Director, Urban Programming. She leads the organisation's global urban work having worked in international relief and development since 2008. In her current role, she leads the mainstreaming of urban programming across World Vision's global strategy and operations. She also supports program, strategy and capabilities development for development and humanitarian responses in cities and other urban areas across multiple countries. Find her at  Twitter.com/@Aline_Rahbany
Subscribe to see more content like this