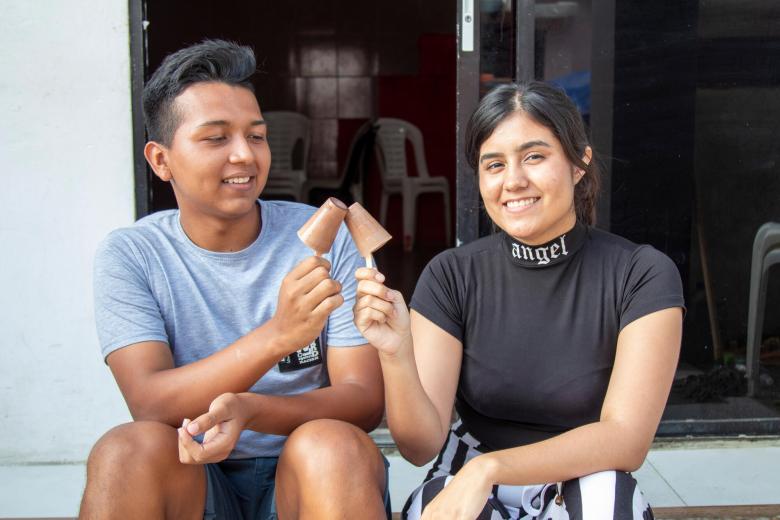 What youth need to succeed and escape cycles of poverty
On World Youth Skills Day 2022, Dr Tendai Chigavazira considers the blocks to youth employment and some key methods for overcoming them. 
The youth unemployment rate has been rising at an alarming rate globally with young women constituting the majority. The global unemployment rate for youth averages 13.6%, however there are significant regional variations, from under 9 percent in North America to 30 percent in Northern Africa. In South Africa, youth unemployment is an astounding 66.5%, which is about five times higher than the global average.  
With COVID-19 devastating the livelihoods of many households, young people who were already facing precarious and insecure labour markets are now confronted with grim employment securities. High unemployment rates and poverty, combined with family breakdowns, often contribute to increased substance abuse, delinquency and ultimately a lost generation.  
A priority programme 
World Vision works with youth to address the underlying drivers of child vulnerability and to break intergenerational cycles of poverty. For example, in response to the high unemployment rate in Limpopo, South Africa, World Vision was awarded a two-year contract by Amref to tackle this situation using the Youth Hub concept and the Youth Ready Model. Such programmes help to address four of the key structural drivers for youth unemployment: i) low economic growth rates ii) skills mismatches iii) continued spatial inequalities and iv) labour market inefficiencies. 
I was delighted to be involved with one of the trainings in December 2021 which, although virtual, reignited my life-long passion to motivate young people to do what they can to be better equipped for their transition into adulthood and for their future. The young people told me: "Tomorrow is not guaranteed..." but I told them, "...neither is your future success without tenacity and grit." Often this comes from knowing who you are and what you want out of life. One of World Vision's Youth Ready modules empowers youth to find this out, setting them up, not just for that moment, but for the future. 
Prioritise role-models  
However, there are other things they will need, aside from determination, to ensure they have the clearest path to achieving their dreams and ambitions. Even youngsters that have unlimited opportunities can lack guidance from great role models. In families where both parents work long inflexible hours and little time is spent interacting with their children, the Internet is bound to become their foster parent. There is nothing wrong with both parents working, but neither the Internet nor peers can instill the good values that parents can – if they have sufficient work-life balance and are around to invest in their children's upbringing. Also, young people who lack adequate guidance, or activities to keep them occupied can also find themselves veering off the path to success. Bored teens can make wild and poor decisions that negatively affect the rest of their lives.  
Given the rising global divorce statistics and single parenting phenomena especially in South Africa where 47.6% live in single parent families, young adults benefit immensely from positive role models outside the family who augment the missing pieces in their social development and engagement in the available economic systems.  Trained and committed mentors can assist youth to develop networks, give them confidence to try new things, help them resolve relationship issues and, when they do find work, to stay employed. I have personally made it a point to have an 'open door' policy with young people I know telling them I will listen uncritically if they want to talk anything through. Just something as simple as this could make a difference for millions of children.  
Priority resources  
Of course, even the brightest dreams will not happen without sufficient resources. With the rising youth unemployment rate globally, and especially in countries like South Africa, it is important that youths are supported in turning their business ideas into sustainable businesses that ultimately offer employment for other community members. Listening to the ideas that sprang from the young women and men in Limpopo made me realise how we all have greatness in us. However, this greatness will always be held back if there is not enough emotional, social and financial support available. It is often the last of these that is most difficult to secure. Many youngsters struggle to find even a small amount of capital to purchase equipment for even the simplest of business, a car wash for example. Identifying good business ideas and supporting young people financially is good for them and for those around them.  
This is one of the reasons why World Vision establishes Savings for Transformation groups, through which men and women in poor communities can set up their own groups which enable them to save money together in small amounts and lend to each other when needs arise, such as family members' illness, children's education, and falling income due, or business start-ups. Such groups are key building blocks for social and economic empowerment, household resilience, and social cohesion. 
Setting up any kind of small business is difficult, so providing young people with sufficient moral, emotional, practical and financial support will help remove blocks that older people rarely face. Each of us should consider what he or she can do to equip young people with the tools they need to succeed. Why? Because this kind of support is not just an investment in today's youth, but in our societies, as well as a solid foundation for future generations.  
Tendai Chigavazira, is Senior Technical Advisor, Livelihoods in World Vision's Technical Services Organisation, a group of technical experts within World Vision International located globally to support your technical sector's development and emergency response needs. Learn more at https://www.wvi.org/tso or write to  tendai_chigavazira@wvi.org  
Main image: Denisse and Ronald who participated in World Vision Ecuador's programmes and have launched their own ice cream business. 
 
Subscribe to see more content like this