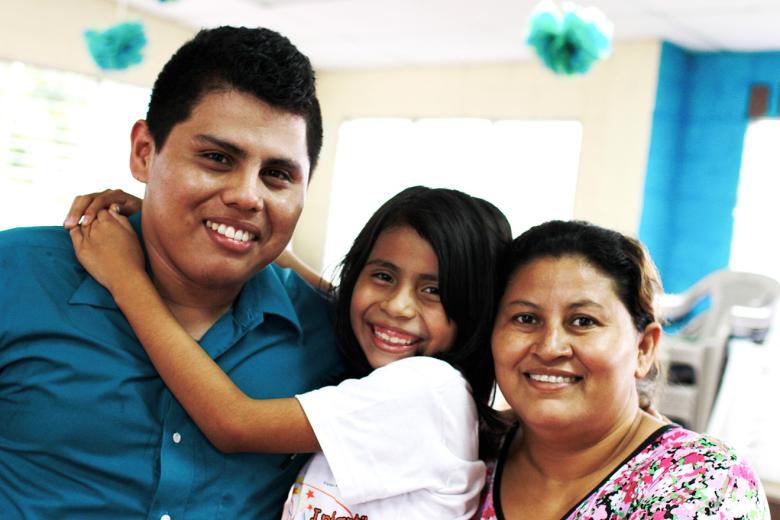 Sowing peaceful parenting in a violent urban jungle
Soyapango, population 290,000, is one of El Salvador's most violent cities. In the first eight months of this year alone there have been 28 murders, 58 robberies and 22 sexual assaults. The main culprits are two gangs: Mara Salvatrucha and Barrio 18 who fight an ongoing war for territory. In Soyapango, even the simple act of crossing from one gang-held area to another can get you killed. 
Governments have, of course, tried to fight back, but meeting violence with violence has done little more than create a vicious cycle of brutality, death and human rights violations. 
Growing up as a child in this context is bad enough, but in Sorapango children are also at risk of sexual violence. More than half of all sexual abuse is committed by members of their own family. 
For many years World Vision staff in El Salvador worked in this beleaguered city to meet the basic needs of children: proper healthcare, nutrition, education, etc. While things have improved for children over time, violence and insecurity have become worse and are now the priority for the organisation.  
This is why, in 2012, World Vision launched an urban programme called Emmanuel working with church leaders and schools in the area to introduce various interventions and learning methodologies focused on values ​​and opportunities for life. They also worked with local people to create spaces and mechanisms for children's protection.
One intervention, Positive Raising Family Circles, aims to improve relationships between caregivers and their children and promote peace and positive parenting. The aim is to break the cycle of conflict and violence that can begin in the home and spill over into society.
World Vision staff and volunteers run free, participatory and inclusive workshops with groups no larger than 15 families. These meet once or twice a month in community settings, educational centers and churches and help parents learn how to protect their children, how to raise them with love and kindness and how to nurture their children's spiritual life.
There are 23 volunteers supporting this work and 25 Positive Raising Family Circles have been established. World Vision and these volunteers are working with 8 schools, 3 community centers, 8 churches impacting 3,410 children and more than 850 parents, some of whom are active gang members. 
One story highlights the difference this course has made to both children and their caregivers. One father, who had been unsure whether he should get involved in the family circles, got up at the end of the session and ran to hug his son saying: Forgive me for all the damage I have done to you, I will not treat you badly again, forgive me."
Five lessons from running this and other urban programmes in a violent urban context like Soyapango include: 
Partner to benefit from existing legitimacy and trust –Communities recognise churches and schools as safe spaces in gang controlled areas. Partnering with those organisations mean lower risk to children, volunteers and World Vision staff, and has made programmes more attractive to wary community members. Having church partners have also allowed us to broaden programming to pre-school children. Partnering with the local government can also result in greater scope and impact, especially for child protection.
Transparent, honest communication is key –violence breeds mistrust. Ensuring everyone, including gang members, understand the details and aims of the programmes allows them to proceed unhindered. It also lowers the risk from anyone who misunderstands our intentions. 
Children must be at the centre –giving children a chance to speak, to be heard by family members and teacher, to contribute; giving them a chance to dream of a new community, school, future—all of this is crucial for their sense of self-worth. It is also important to involve them in the whole process from the design to the execution of projects so that they give us their perception of security, their interests, a proposal of actions to improve the community and their commitment to participate in the projects.
Everyone should be welcome and included –Whether children of gang members or gang members themselves, everyone was welcomed to participate in our projects. In a context of violence, enmity and aggression, the family circle session in particular were safe spaces where parents could just be parents and children, children.
Peace and hope can grow out of a culture of violence and fear –While Soyapango is a city gripped by violence, insecurity and negativity, World Vision and partners have persevered and provided life-giving opportunities: robotics workshops; access to culture, art, recreation; spaces to talk and forgive; and more. It is not easy, but we and the communities we serve are starting to see a future beyond violence. 
Elisa Gamero and Miguel Artiga work for World Vision El Salvador.
Subscribe to see more content like this