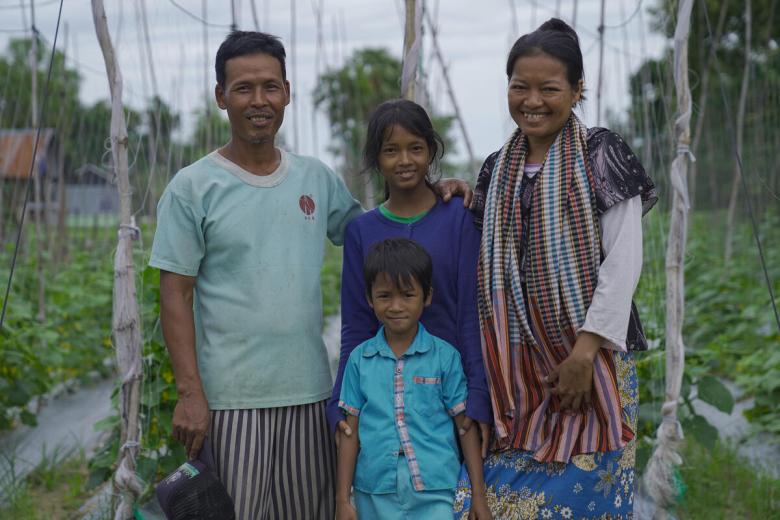 Why care about family values? They translate into child well-being 
Kathryn Kraft considers how a behaviour-change programme is helping to make 'family' a sacred word for children 
What does the phrase "family values" mean to you? Does it evoke strong positive or perhaps negative emotions? Family matters to everyone, not least because it is often the space where you feel the most safe or least safe—emotionally and physically.  
As a sociologist of religion, during my time at World Vision, I have been most impressed by how our work to strengthen families can completely transform the lives and futures of children. The project model "Celebrating Families" that promote positive family values has reached more than 300,000 parents across 32 countries in 2022 and stories such as this one  confirm that it is making a big difference. 
"At home, we used to live in fear because our father used to shout at our mother and hit us whenever we made a mistake. However, for some time we noticed that he was no longer shouting at our mother and hitting us. Therefore, I approached him to find out the reason for this change. He said to me: "My daughter, first of all I ask forgiveness to all my family, I regret all the evil that I did to you. Thanks to a training course called "Celebrating Families" organized by World Vision in which I participated, I understood how to treat and interact with my family. That is why I have changed my behaviour towards you." (Diawara, a 12-year-old child from Senegal) 
There's nothing controversial about the family values promoted by Celebrating Families. Local staff and implementers said those values central to the programme included love, respect, sharing, forgiving and understanding.  
These are not exclusively Christian values, but as a Christian organisation we use Bible stories to help guide parents and caregivers through a process of addressing the past, recognising the present, envisioning the future and pursuing dreams. Some of the stories in the curriculum include: 
The story of the Prodigal Son (Luke 15:11–32), a famous story of a son who rebelled and then returned to his father which is used in the workshops to illustrate the importance of finding the good seeds in each person  
The story of the man who built his house upon a rock (Matthew 7:24–27), which is used to encourage participants to identify things that make up a strong foundation and things that make up a weak foundation in their own homes and families  
The reports we have of Celebrating Families around the world describe it not only as promoting positive parenting, but as a process that transforms families, inspiring and equipping parents to love their children better, and make a healthy family life more of a priority.  
A recent desk review of annual reports from World Vision programmes around the world, found that nearly 10% of offices reported a story of change in family relationships as the most noteworthy example of transformation in their communities. Even more impressive was the fact that many of these stories illustrated not just an improvement in child well-being, but a complete overhaul of and re-setting of relationships. This can prove life-changing, not only for current participants but for generations to come as a result of the generational transmission of values. 
In some families, this is the beginning of the reversal of deep-seated harmful practices. For example, for this family in India, the Celebrating Families workshop triggered one small change which led to a series of other changes in the entire family culture:  
"A training has brought magical changes in our life. My parents attended the two days' workshop on Celebrating Families conducted by World Vision in our village that really opened their eyes. A crucial decision on giving up the bad habit of alcohol by my father totally changed the situation... My mother got trust and space to grow. My father became more responsible now. They started set apart little money and time for family especially for children. Now, my parents have a vision and dream for us." As told by Agnes [13 years old]. 
Reported changes in the family have most often included a more peaceful environment, improved family communication and quality time together, caregivers supporting opportunities for children, and an end to hitting or other physical violence. Staff and facilitators pointed to several ways in which this led to changes in the lives of children, including: 
Parents supported their children's needs as well as aspirations;  
children were better understood by their parents and, as a result, developed greater confidence in school and with their peers; 
children developed a better sense of their own rights and the ability to speak out for justice, and; 
children were physically safer. 
"I felt a strong change in my mother with us, she hugged us and apologized for everything. She told me that she loved me and my brothers. I didn't understand this sudden change but from that moment my mother allowed me to participate in painting and dancing workshops, the band, and others, which let me to be more participative and get involved in adolescent activities" – Emily, 14 years old, Ecuador. 
Learn more about the Celebrating Families programme here.  
Kathryn Kraft is World Vision International's Senior Research Advisor for Faith and Development, and lecturer in Social Sciences at University of East London. She can be reached at kathryn_kraft@wvi.org 
Subscribe to see more content like this