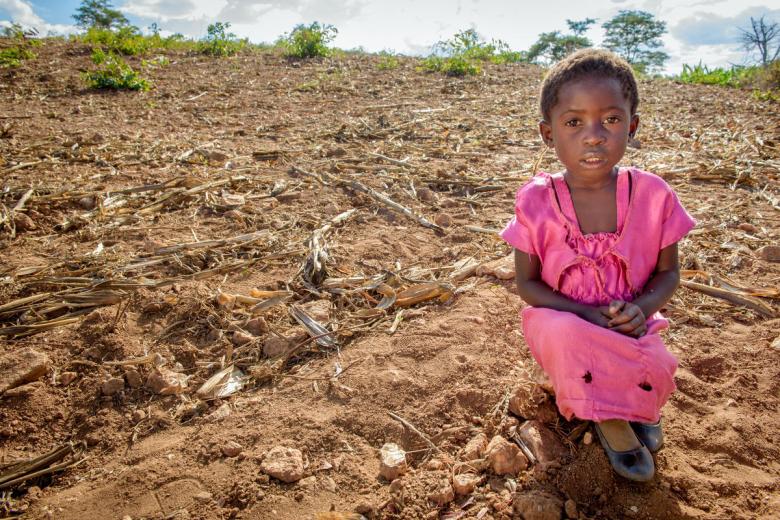 Will today's hunger crisis leave children a healthy planet tomorrow?
When we turn on the news, we see daily stories demonstrating that we are no longer trying to prevent climate change but rather mitigate it.  Unfortunately, the same is true for the growing risk of famine.
What is happening in the world today is the risk of famine at a scale we have never seen before.  Of course, there have been many famines in history, but what is happening today is unprecedented, as 45 million people across 43 countries grow closer to starvation with every shock. This was true before the conflict in Ukraine – which will severely worsen food insecurity around the globe.
Since joining World Vision as a Leland International Hunger Fellow last year, I have focused on famine prevention advocacy.  Every day, we raise the alarm about the growing risk of famine.  Yet, with every natural disaster and prolonged conflict, we are moving farther away from achieving the Sustainable Development Goal of Zero Hunger by 2030.  Just in the past three years, Hunger has been increasing at an alarming rate.  In 2019, 690 million people suffered from hunger worldwide (pre- COVID pandemic).  This increased to a staggering 811 million in 2020, and in 2021, this number rose to approximately 957 million people. OCHA has predicted that in 2022 the number of people who need lifesaving humanitarian assistance could further increase by 17%  As the global food market is shocked by the Ukraine-Russia conflict, the world's most vulnerable are poised to experience starvation.
Climate change is a colossal concern – and we are already experiencing it: the last seven years have been the hottest ever recorded – by a large margin. The latest report from the UN Intergovernmental Panel on Climate Change (IPCC) estimated that climate change will drive 132 million more people into extreme poverty in the next decade alone.  Withering droughts, extreme heat, and record floods are destroying livelihoods for millions and making food scarce.  Climate change affects all aspects of food systems, from production to availability, access, quality, utilization, and stability. The climate crisis has a very real human cost.  Although governments have made global commitments to address this over and over again, these conditions continue to worsen.  Decision-makers are wasting precious time for preventative action.
The same can be said for famine prevention – alarm bells are ringing as the hunger crisis continues to escalate.  Unfortunately, time to prevent death has already run out for so many, almost half of whom are children under the age of five.  This is why World Vision is calling for an IPCC special report on children and climate change.  Climate change is increasingly a threat multiplier for people facing hunger and starvation, especially for women, children, and the most vulnerable. Will today's hunger crisis leave a healthy planet for our children tomorrow?
The conflict in Ukraine will not only worsen climate change through increased Co2 emissions but also the risk of famine.  As seen in the graph below,[11]  Russia and Ukraine are some of the largest food staples and fertilizer producers.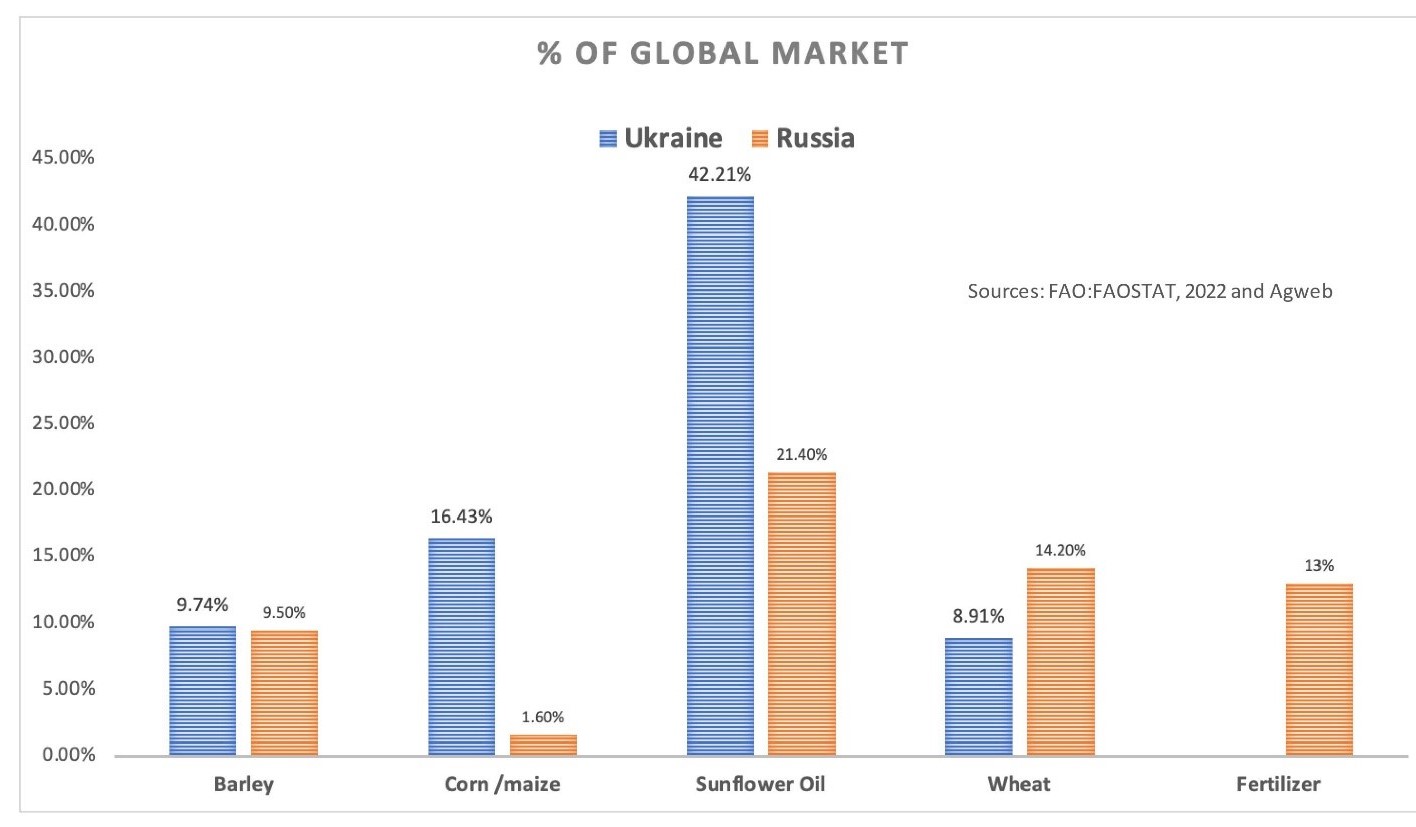 The conflict is already reducing this year's harvest and, with less fertilizer, planting for next season.  According to the UN Food and Agriculture Organization, food prices have already skyrocketed with the conflict in Ukraine largely responsible for this year's 17% increase in the price of grains, including wheat, barley, and corn. Prices of staple foods, meat, and fertilizer will certainly continue to rise, and their effects will be felt most strongly by the most vulnerable.
As a child-focused organization, we at World Vision hear children's stories every day who are affected by hunger and climate change.  We also hear their calls for climate action.  So many youths are taking matters into their own hands, like Ruth from Kenya, who uses Farmer Managed Natural Regeneration to ensure her community is fed and protected from climate change.  We need to listen to Ruth and other youth like her around the globe.  Hear their voices in this one-minute video:
Given the unprecedented scale of the risk of famine, especially for vulnerable children and their families, World Vision has implemented its Global Hunger Initiative to align our advocacy and impact on famine prevention and mitigation.  This initiative focuses on countries and regions extremely vulnerable to hunger and climate change, especially in the regions of East and South Africa and Central America.[13]  So far, we have reached almost 10 million people from April 2021 to February 2022 alone.  In addition, we have many existing programmes to mitigate the impacts of climate change and climate migration, reaching millions of people around the world.
We know that famine and starvation, as well as climate change, are 100% preventable and are continuing to increase at an alarming pace. The only missing piece is political will and accountability.  So, with Earth Day upon us, let's stand together to stop climate change, prevent hunger, and protect the world's most vulnerable children.  By ending today's hunger crisis, we can ensure a healthy planet for our children tomorrow.
As a Mickey Leland International Hunger Fellow, Elizabeth Margolis serves as World Vision's Food Security Policy and Advocacy Coordinator, including World Vision's Global Hunger Initiative.
-----------------------------------
[11] Sources: https://ourworldindata.org/ukraine-russia-food ; https://www.agweb.com/news/policy/politics/russian-ministry-recommends-fertilizer-producers-halt-exports
[13] Countries in Central America including El Salvador, Guatemala, Honduras and Nicaragua were severely impacted by hurricanes in November 2020 and remain extremely vulnerable to climate shocks. East Africa has been affected by vast locust swarms – the worst in decades - that will continue to impact the region. Higher than average temperatures and abnormal rains have made the situation worse. Kenya, Ethiopia, Somalia and Yemen all suffer from locust impacts. Reduced rainfall is predicted over Northern and Southwestern Africa. Angola is suffering its worst drought in nearly four decades which has severely affected lives and livelihoods, and damaged crops with losses of up to 40%. (Source: World Vision International)
Subscribe to see more content like this