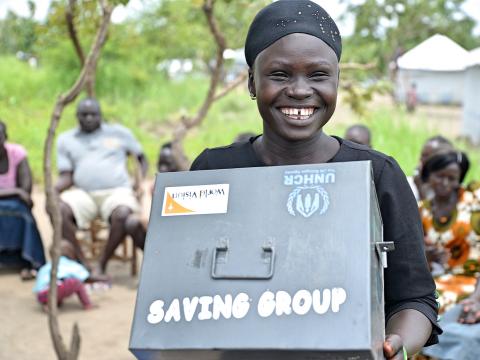 UNHCR Partnership
PARTNERSHIP PURPOSE & HISTORY
World Vision and UNHCR have partnered for over a decade across diverse sectors in some of the world's most complex operating environments. According to UNHCR, of the 68.5 million people displaced worldwide more than 50% are children. We partner at the response level and regional levels, and our global policy work includes the development/implementation of the Global Compact on Refugees to realise the rights & needs of displaced children.

OVERVIEW OF KEY PROGRAMMES
At the end of 2018, World Vision had secured 15 contracts with UNHCR in more than 7 locations in East, West, and Southern Africa, the Middle East and Central America. In 2016, the two organisations signed an MoU to address and resolve challenges between both organisations' operating processes and to commit to working in greater partnership with one another. World Vision supports UNHCR in areas including Emergency Food Security and Livelihoods, Cash-based Programming, Protection and Child Protection, WASH, and Non-Food Items. World Vision has worked extensively with UNHCR on digital systems and cash-based programming e.g. Last Mile Mobile Solutions in Kenya and Kurdish Iraq and the response testing of the new LMMS/MasterCard cash programming card in Rwanda. Currently World Vision is the largest recipient of funding for UNHCR's cash-based social security programme in Lebanon for refugee and host communities. 
 
BETTER TOGETHER
World Vision has decades of both humanitarian and development programme experience across more than 100 countries and is very well placed to advance the Humanitarian, Development, and Peace-Building Nexus—a central priority for UNHCR and the sector as a whole. World Vision's valuation of people and communities, faith, and culture, at the centre of programming maintains an important people centered approach. World Vision's tri-part approach to relationship building and strengthening at the community, civil-society and importantly, national government level has been an essential element in the delivery of sustainable programming in partnership with UNHCR, and the realisation of transitional change for some of the worlds most marginalised and vulnerable groups. UNHCR's Protection Mandate and responsibility to promote the protection, recovery and empowerment of displaced populations distinguishes them from other UN agencies. In a period of unparalleled displacement in modern times, the expertise and leadership of UNHCR continues to provide essential support for World Vision programmes and ultimately greater outcomes for the people whom we collectively serve. Increasingly, children represent that majority of globally displaced and remain disproportionately impacted, particularly in periods of protracted displacement. In 2019 World Vision will continue to work in coordination with UNHCR across global crises and toward the implementation of the Global Compact on Refugees toward the empowerment of displaced children and their communities.