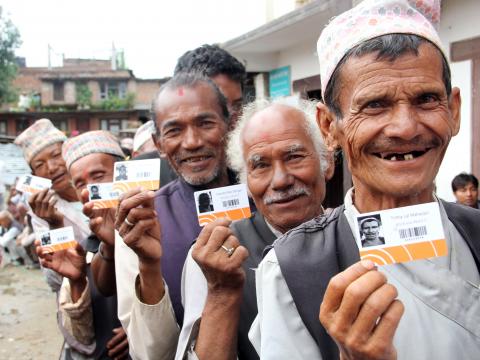 Last Mile Mobile Solutions (LMMS)
LMMS is a stand-alone technology solution that we developed in collaboration with the IT industry. It combines software applications with custom hardware to digitise (and simplify) beneficiary registration, verification, distribution planning and management, monitoring and reporting with the ability to integrate with third party applications.
The 'last mile' is the critical stage of humanitarian aid delivery where essential supplies reach the people most affected by disasters. LMMS improves remote data collection, helps manage aid recipients, enables faster and fairer aid distributions and delivers rapid reporting to aid workers. Early collaboration with private-sector partners such as Field Worker and Intermec helped bring our vision to life, and pilot projects and feedback from early-adopters have helped us refine it.
Aid recipients are accurately tracked. Rations and supplies are calculated and distributed with precision. Web-generated reports are immediately available for donors and stakeholders at the close of key operational activities such as distribution of humanitarian relief aid. Through automation, LMMS helps to solve operational issues that affect aid delivery:  long wait times for aid recipients, fraud or errors in allocations to families, and inaccurate reporting or tracking of supplies and inventory.
As of December 2016, LMMS has registered over 4.5 million beneficiaries and has been deployed in 29 countries by over a dozen different humanitarian agencies. The list of organisations who have used or are using LMMS include: Oxfam GB, Medair, Save the Children, International Committee of the Red Cross (ICRC), CARE, Mercy Corps, Norwegian Refugee Council (NRC), Food for the Hungry, UNICEF, TEARFUND, Danish Refugee Council, (DRC) UNDP and World Vision (WV).
What does LMMS do?
LMMS not only captures data, but allows for immediate use of that data. It is used for:
beneficiary registration and digital identity
real-time reporting and tracking
remote data collection
beneficiary management
cash programming
commodity distribution
reporting processes
Benefits of using LMMS
Users of LMMS have reported efficiency gains, cost benefits and improvements in accountability, including:
At least a 50% time reduction for registration, distribution & reporting activities [1]
47% reduction in registration time [2]
30% reduction in project related budgetary costs for LMMS versus manual activities [3]
40% reduction in distribution staff and a corresponding reduction in related office and travel costs [4]
Multiple agencies report a reduction in fraud and double dipping - zero losses in inventory post LMMS
Improved beneficiary targeting and savings through reuse of data [5]
Electronic audit trail of user activity and reports on which family member collected rations.
Comprehensive reports by LMMS eliminate the need to capture thumbprints or signatures on paper - a development welcomed by both donors and beneficiaries alike
LMMS and Cash
In addition to having an integrated Cash Module modelling the Aid for Work business process, LMMS accommodates electronic cash transfers through digital channels.
The flexible software can define payment partners and payment mediums dynamically, meaning aid agencies can use LMMS to automatically calculate payments to be distributed to aid recipients through third party financial service providers. This includes banks, mobile network operators, payment network operators (such as MasterCard and Visa), remittance agencies and proprietary vendors using their own cash-based transfer solutions.
The huge advantage of LMMS automatically generating "Payment Instruction Files" is beneficiary Personally Identifiable Information (PII) is retained within the LMMS system. It is never shared with third parties – ensuring data privacy and security.
Learn More
[1]
LMMS Haiti Case Study
,
Accenture Development Partnerships
, 2010.[2]
Typhoon Haiyan LMMS pilot,
Oxfam Great Britain, 2014[3]
Cost-effectiveness study,
World Vision International[4]
Using the Last Mile Mobile Solutions (LMMS) in Liberia,
Norwegian Refugee Council Liberia
, 2014[5]
Why not digital? Technology as an interagency tool in the Central African Republic,
Humanitarian Practice Network, 2014.