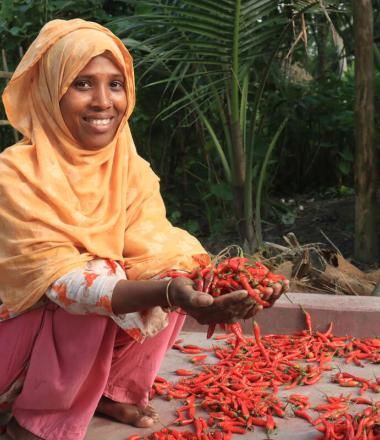 "GENDER EQUALITY IS THE GREATEST HUMAN RIGHTS CHALLENGE OF OUR TIME. ECONOMIC EMPOWERMENT IS A UNIQUELY POTENT WAY FOR WOMEN TO ACHIEVE GREATER CONTROL OVER THEIR OWN LIVES." — ANTÓNIO GUTERRES
Women's Economic Empowerment
Women's economic empowerment (WEE) is central to realising World Vision's mission 'for every child, life in all its fullness'. When women are stable financial contributors to a household, investments in children's health and education increase. Therefore, WEE is a key supporting approach of World Vision's Livelihood Sector where women can benefit alongside men.
World Vision adopts a holistic approach to WEE, which comprises four domains of empowerment. The organization promotes women's economic advancement, access to opportunities, services, and resources, and agency, including decision-making ability in households and markets, manageable paid and unpaid workloads, and well-being. Finally, World Vision promotes equitable systems where women can benefit from equitable policies, laws, institutional practices, and social norms.
Check out our WEE Briefing Paper or view our full WEE technical approach and programmatic tools that highlight how to practically promote WEE in livelihood programmes. This includes guidance on engaging market actors on including women as producers, employees, and consumers as part of gender-inclusive business models and practices. It also includes strategies that can address gender-based constraints by engaging with households and communities, such as skills development or activities to promote equitable gender relations and social norms. For example, one practical way we are promoting WEE outcomes is via the Gender Inclusive Financial Literacy Training for couples, which seeks to promote access to financial literacy skills as well as women's voices in decisions regarding how money is spent.
Learn more about World Vision's Livelihoods programmatic approaches or contact us at livelihoods@wvi.org.
Women's Economic Empowerment
WEE Research, Stories & Tools