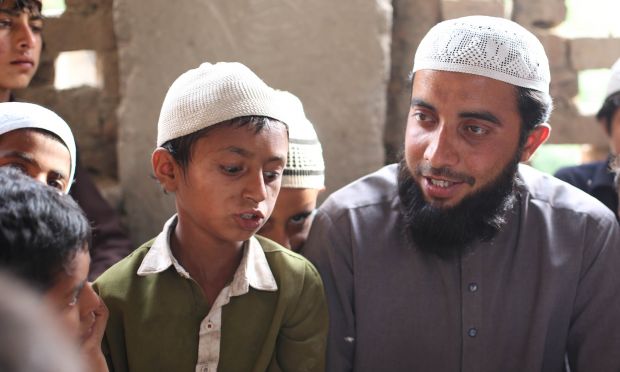 Mr. Majid Shah, 30 belongs to the village (Panhwari –UC Noraja ), Talka Panu Aaqal, Sukkur Talka (district) of Sindh Province, Pakistan. He has is Hafiz (a person who has completely memorized the Muslims Holly book Qur'an) and he has also studied till 12th Grade of formal education. During morning time, Majid offers his services as teacher in the village school and in the evening, he offers religious teaching in the village mosque. Both the services are voluntarily and totally free of cot. His elder brother and uncle provide financial support to him.
His village is consisted of around marginalized 450 households and is located in the Katcha[1] area. Almost every consecutive year during summer, flood water adds miseries to the life of people and forces them to takes refuge at the nearby safer and higher places for few months.
During 2010 mega flooding in Pakistan, he has worked as volunteer with World Vision relief operation in their village and surroundings areas. He also received several trainings on child rights convention (CRC) and child protection as well as he was also capacitated on Disaster Risk Management (DRM) in emergencies-Protect Children in 2015 by (National Disaster Management Authority( NDMA) [add details of few more trainings].
Because of this volunteer work and religious background, Majid shah enjoys very good reputation among his village community. During Friday prayers, he often delivers sermons covering wide range of topics including child rights and their issue. He is also general sectary of "Sindh Sanghar", a community based organization (CBO), which was formed under World Vision's Communities for improved Child Wellbeing (CICWB) project in Sukkur. The CBO with the support from World Vision and share from the community also built a community hall in the village.
During the month of September dated 01-02 ,2015r, Majid along with other four persons from his village got a chance to attend a three day [3] Celebrating Families (CF) training. The main purpose of this training is to encourage participants to respond to the issues and challenges in their family and society to help ensure that children are protected and can better thrive in healthy family environment. He shared this training awoke his fair judgmental emotions about childhood, which provoke his inner analysis and evaluation of past and current childhood nurture. He also included that it provided me an opportunity to rethink, their childhood past painful memories which they were behaving same as they had been got to family members, teachers, society and also religious teachers with their family members or as a parents and caregiver with their children through their attitude, behavior, expression and uttering.
He added it is great time to learn that how reunion our discontinuity relationship with family members because these bad practices and impact certainly effect on our children physical, mental and spiritual nurture and stop children emotional and cognitive development.
Mr. Majid Ali shah started his reflection to quote from "Hadith of Tafseer "Ibn-e-Kaseer"( Jild No.3- Page - 528) and expressed his views in the light of "Hadith" and shared that mercy on children and give respect, importance to elders. He continued and added that these lines are representing the whole Celebrating Families training contents. While I got this training, I realized and rethink about my contribution and role within family, community and society as wee. This training helped me a lot to build family relations, wholeness of the family, and sense of forgiveness. Furthermore, he stated that how to deal with the children in amicable nature. He told that I am conveying learned sharing with parents children they should be stop harsh behavior and scolds with their children because our religion teaches us love, care, protection, respect of children and ensure their realities
So for World Vision has trained 42 males and 46females on Celebrating Families in Sukkhur Talka.
"The most inspiring thing I have learned from the CF trainings is 'what are the causes of brokenness and wholeness in the family?' and how to intact the family together " said Majid Shah.
It is a very common practice in the villages that people on daily basis sit together and spent their idle time in discussions and chit chats. After receiving training, fellow villagers asked Majid shah, how training was, and what he has learned. Majid shah replicated the key learning to around 25 individual from the trainings about family wholeness and child rights, and what does religious teach us about these.
"Based on my teaching to the villagers, I observe reduction in the physical and mental abuse and lot of improvement in the behaviour of male member toward their children and females." Said Majid " I would quote a specific example of my uncle, who had a very harsh behaviour toward his wife and children but after replicating the CF training learning he become completely changed that his family member asked me, what kind of magic you have done to him" her further added.
Mr. Khuda Bakash, 46, resident of village (Panhwari –UC Noraja ) is father of six children. By profession he is the cleric of the village mosque. He has also attended the CF Training. "There were many benefits of this training, I have learnt, how to live. Before that I didn't know anything, it has opened my eyes. Now I am very much focused at the internal environment of my own home. I also used the learnings to resolve an old conflict between two families in the neighbourhood." Said Khuda Bakash.
Normal 0 false false false EN-GB JA X-NONE
[1] Katcha is local term used to describe the area near to river protective dykes, which is prone to seasonal flooding every year.