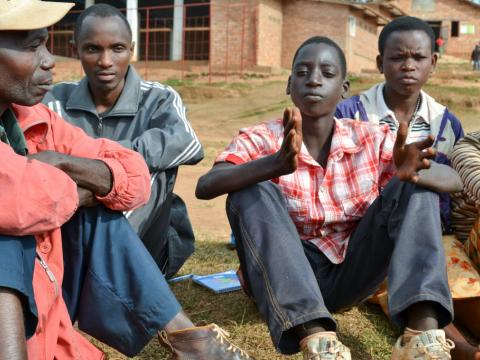 UN Security Council votes to support young peacebuilders
Wednesday, December 9, 2015
On 9 December 2015, the United Nations Security Council unanimously passed its first ever resolution to support young peacebuilders. UN Security Council Resolution 2250 highlights two World Vision child-wellbeing priorities – protection and participation – and adds prevention of violence, partnership in peacebuilding and re-integration after conflict as five components of international action to support youth living in conflict zones. The Resolution is the result of years of advocacy and efforts to highlight youth as positive agents of change. This resolution has been a long awaited acknowledgement that youth are indeed contributing tremendously to peacebuilding and should be engaged, acknowledged, funded, and supported by the UN.
"World Vision knows first-hand the powerful impact youth make every day for peace in their communities. We celebrate Resolution 2250 as recognition of their efforts and as a declaration to support young peacebuilders globally," said World Vision International President, Kevin Jenkins. 
Resolution 2250 refers to other global youth peacebuilding initiatives World Vision staff have helped to influence in the past few years: the Guiding Principles on Young People's Participation in Peacebuilding, the August 2015 Global Forum on Youth, Peace and Security, the Amman Declaration on Youth, Peace and Security, among others. World Vision's experience supporting young peacebuilders and advocacy with youth organisations contributed to the successful passing of this resolution. Search for Common Ground and the United Network of Young Peacebuilders and a variety of UN agencies have been essential partners in the work.
"As a Christian, child-focused, community-based organisation, World Vision understands the incredible impact that peaceful young people have on their communities. We support Resolution 2250 as concrete recognition that youth deserve to be recognised and supported as effective and courageous agents of change," said Jenkins. World Vision Director of Peacebuilding, Matthew Scott, adds: "This Resolution recognises the important peace contributions of young people, which World Vision and our partners have been engaged in for 20 years. My hope and prayer is that the Resolution will not simply shine a much-needed spotlight on brave and intelligent young peacebuilders, but practically help their work succeed."