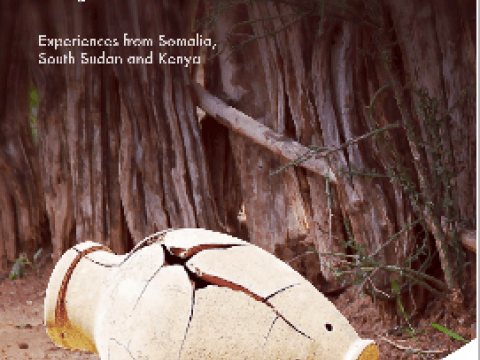 Macro-level conflict analysis: Addressing the uptake-and-use challenge
Wednesday, August 10, 2016
World Vision has been a leading organisation on conflict analysis for humanitarian and development response, creating well-regarded tools such as the Making Sense of Turbulent Contexts tool. The goal of this publication was to better understand how macro-level conflict analysis, especially in fragile and conflict-affected contexts, can be used by organisations, agencies and institutions to shape policy, strategy and operations. 44 key informants from 31 organisations (NGOs, UN and donor agencies, government institutions and think tanks) operating in Somalia, South Sudan and Kenya contributed to the report.
Facilitating factors 
for uptake and use of conflict analysis:
Active tracking of context changes coupled with risk mitigation

Strategic partnerships and management of delicate relationships

The right people with the right capacity

Including an explicit peacebuilding and/or conflict-sensitivity focus

Flexible funding arrangements and supportive donors
Hindering factors to uptake and use of conflict analysis:
Rapidly changing contexts
Budget limitations and donor influence
Restrictive governance environments and 

insecurity

Low staff capacity and frequent staff changes that 

affect follow-up

Weak methodology or conflict analysis process

Inadequate packaging of analysis and recommendations

Competition and limited collaboration between organisations

Lac of organisational buy-in to conflict sensitivity
Key findings
For successful uptake and use of macro-level conflict analysis, organisations working in fragile and conflict-affected contexts must balance external context assessment with internal organisational process and methodological rigour. 
Recommendations
Develop a communication and engagement plan for how to use the conflict analysis.
Use appropriate analysis methodology and processes.
Establish simple and clear conflict analysis follow-up plan.
Engage and educate donors on the importance of: long-term programming in fragile contexts, flexibility in program budgets, and donors' role in shaping conflict-sensitive interventions.
Strengthen capacity to integrate conflict-sensitive approaches in organisational strategy and workplans.
Mobilise buy-in from organisational leadership and operations teams.
Promote collaboration on conflict analyses, including: multi-agency learning and action networks and online platforms for sharing analyses.