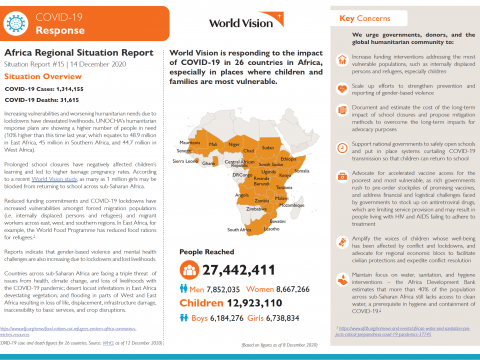 COVID-19 Africa Emergency Response Situation Report #15
Monday, December 14, 2020
Across the Africa region, there are increasing vulnerabilities and worsening humanitarian needs due to lockdowns that have devastated livelihoods. UN OCHA's humanitarian response plans are showing a higher number of people in need (10% higher than this time last year, which equates to 48.9 million in East Africa, 45 million in Southern Africa and 44.7 million in West Africa). 
World Vision continues to respond to the ongoing crisis through a multi-sectoral approach; working in collaboration with local authorities, frontline health workers, academic institutions, faith leaders and communities, and local NGOs. We appeal for increased investments to support critical lifesaving interventions and recovery initiatives.
We are currently reaching over 27.4 million people* including 12.9 million children with our ongoing COVID-19 response interventions covering 26 countries across the African continent. Read the latest on our response in this latest situation report.
This report is dated Monday 14 December 2020.
------
*based on figures as of 8 December 2020